Born in Friuli in the 1970s, Andrea Berton trained in the team of Gualtiero Marchesi and then further perfected his craft in the world's best restaurants, from London to Florence and in Monte Carlo with Alain Ducasse. "Discovered" by the public in 2005, thanks to his collaboration with the Trussardi alla Scala Restaurant, where he won two Michelin stars and numerous critic's awards. For Berton the "turning point" took place in 2013 when he opened his first restaurant in Milan ("Restaurant Berton", Piazza Gae Aulenti) for which it received a Michelin star a year after opening. Appointed in March 2015 as World Expo ambassador, Berton no longer stops for anyone!
The Friulian chef has undertaken many projects and collaborations in recent years: in 2016 he began his collaboration with "Il Sereno", a luxurious resort on Lake Como, where he opened the restaurant "Berton Al Lago" (one Michelin star); in 2017, together with the same group of partners with which he opened the successful DRY Milano Cocktail & Pizza chain, Berton inaugurated the new DRY Milano, in Viale Vittorio Veneto. The same year he launched an exclusive collaboration for the "MGallery by Sofitel Hotels" and the Palazzo Gourmet restaurant at the Club Med in Cefalù. And as a final cherry on the cake, in 2018 Berton received the Pommery Award "Dish of the Year" from Espresso Magazine's Italian Restaurant Guide 2019 for his pigeon lasagna.
Wakapedia's Andrea Berton
Even before he captured our hearts (and indeed our palates) with his dishes, Andrea Berton fascinates with his allure, his elegance, and his charisma. A very tall man (1.95m, we won't tell you how difficult it was to kiss his cheek! Ed), Berton would make you think of a businessman in a suit and tie if it weren't for his chef's whites. We met him in his eponymous restaurant in the new Piazza Gae Aulenti neighborhood in Milan where the chef chose without hesitation to open his first venture. "Every day I passed the construction site of Porta Nuova Varesine and thought: my restaurant will be there". And the choice is not accidental: Andrea Berton is a concrete man, but one who looks to the future; and this new area of Milan – with a futuristic and linear character with its skyscrapers and large windows – represents the style of the chef and his kitchen well. Quality, elegance, cleanliness, and balance. Four words that qualify both the man and the chef. Precision and simplicity do not mean boredom and predictability, on the contrary, with Berton new ideas and surprises are not lacking: like his pizza-flavored risotto (yes!), apparently a crazy idea, but one that pleasantly surprises the taste buds … What can I say, we hope that this interview will make your mouth water!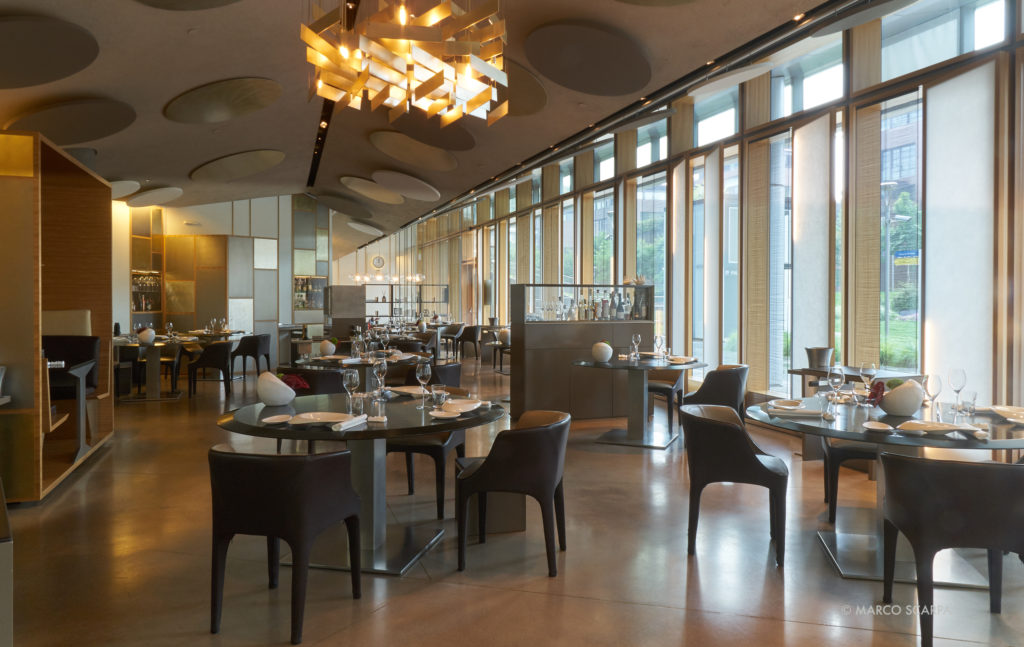 Wakapedia: Hello chef Andrea Berton, thank you for accepting our interview request! Um … I don't know if you know our site, we prefer not to get lost in unnecessary formalities, so right away the first question: can we give you some?
Andrea Berton: Of course, no problem!
Wakapedia: (breathing a sigh of relief) Let's be honest, we don't know much about your career apart from your Milan period at Trussardi's restaurant. Sorry for the ignorance! But we always have a great desire to learn new things! Can you tell us your story from the beginning?
Berton: With pleasure! My passion for cooking comes from when I was a child. When I was eating at the restaurant with my parents, I always went to look around the kitchen door. I liked to observe the gestures of the cooks, how they handled the ingredients and the tools available to them. So I did some studies in the field and, once I left school, I immediately wanted to "get my hands dirty" and I went directly to work. And not in just any place, but with Gualtiero Marchesi! It was 1989, many years ago.
Wakapedia: So this is how your business career starts … I mean business chef!
Berton: In what sense?
Wakapedia: We at Wakapedia are convinced that even in a suit and tie you would look good !! You are handsome, tall and you look like a CEO of some important company !!
Berton: Hahaha … well, but I prefer wearing a chef's uniform to a jacket and tie! At that time Marchesi's restaurant was the best of the best and that's where I wanted to start to understand quickly if working in a restaurant was really the job of my life.
Wakapedia: The Great Marchesi, one of Wakapedia's favorite interviewees! His passing was a great shock to us … (silence) Listen, we are curious; can you explain to us how did you get hired by him when you finished your studies? Were you a child prodigy or did you have a great deal of luck?
Berton: Ahaha let's say a little bit of both! At school, I had met an older boy who had worked with him and introduced me to the executive chef of Marchesi at the time, a Frenchman, for an interview. I still remember all the details very well. It was a Thursday afternoon, around 15:30. The chef let me into his office, I told him I wanted to work at all costs with them and he explained to me that to be accepted you had to have certain experiences … I left my resume and they said they would let me know (a famous phrase to say, au revoir! ed.).
Wakapedia: As always you need a CV! So you can confirm that in all fields it is always the same story!
Berton: Yes! But I had no CV, I had just finished school! The executive chef's eyes widened with surprise and he was ready to send me home, but fate wanted Gualtiero Marchesi to enter the office right at that moment. I didn't miss a beat, I introduced myself and told him I could start working right away. And Gualtiero told the chef: "Do we need him? Try it, and if he's not good, send him home! "
Wakapedia: Amazing!!
Berton: In short, I was so persistent that the chef got me started in the kitchen an hour after the interview. Sometimes the method of stubbornness works! (laughs). And from there began a beautiful eight-year collaboration with Marchesi.
Wakapedia: What a wonderful person … really GREAT MARCHESI! Can you say that his cooking influenced you?
Berton: Of course, he provided the foundations for my style. I took from him the cult of simplicity, cleaning the dishes. Then I build upon these teachings in my own way. But it is undeniable that he was a base, a model.
Wakapedia: How did your approach to cooking evolve then?
Berton: My cooking evolves every day, according to the seasons, society. But there is a philosophy that has always accompanied me and it is the will to propose clean gastronomy, dishes with a clear taste. It has been like this since the beginning, since my first Michelin star when I worked at the "Taverna di Colloredo in Monte Albano", in Friuli. There the kitchen was closely tied to the territory, rather simple in the development of the dishes. It was my first experience, I consolidated myself, I was concrete. Today, on the other hand, thanks to chemistry and science, I'm not afraid of creating surprising new sensations. I started with quality but the classic kitchen(cuisine?), now I try a lot more; to give you an example, pairing fish and licorice!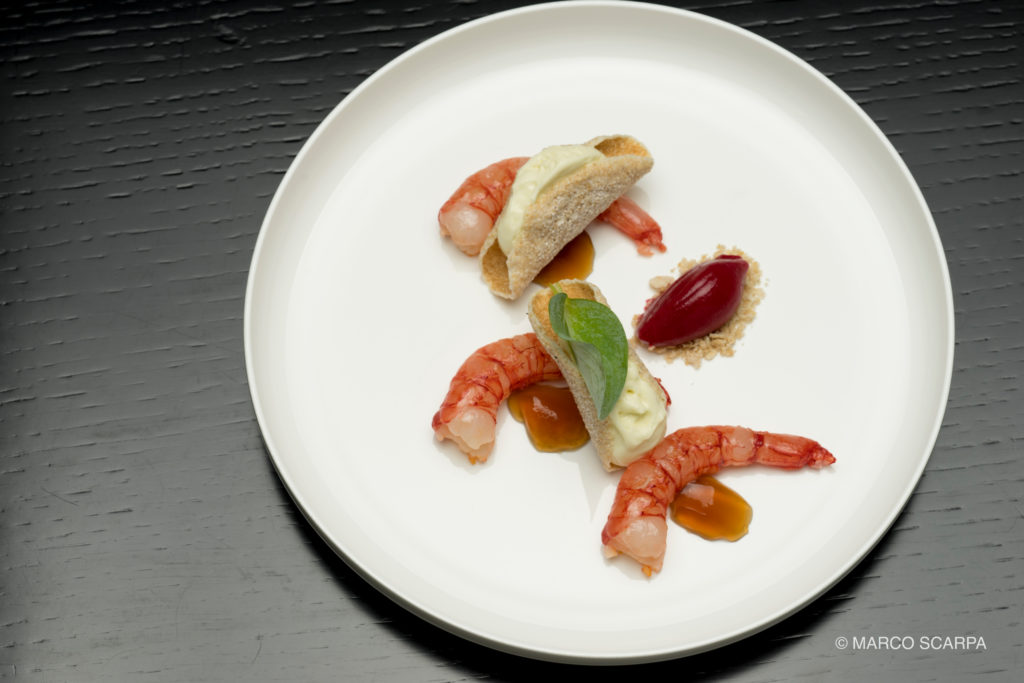 Wakapedia: Mmm, we already have your mouth watering! In what other places did you work before arriving here?
Berton: After Friuli, I was executive chef at Albereta with Marchesi for 3 years. It was an intense period with many important meetings, many trips: we started with Costa Crociere, we organized dinners for large meetings. But my goal was to get to Milan. And I did it, at 34 years old.
Wakapedia: With Trussardi, right?
Berton: Exactly, they wanted to make a change at "La Scala restaurant"; I accepted with great pleasure and it was a very interesting experience. After Trussardi, I decided to open my restaurant. I was looking for a virgin place, without history, but with a future yet to be written. We found this area that was starting to be built (near the current Piazza Gae Aulenti, ed) … and in 2013 I opened the restaurant that bears my name. When we opened we were really in the middle of a construction site with a lot of cranes! It was a risk, but it went very well. So well that three years later I opened another restaurant on Lake Como, "Berton al Lago", and I also run the "Il Sereno" restaurant. Then I started a good collaboration with "Club Med" in Cefalù and opened a new "DRY Milano" with my partners, in Viale Vittorio Veneto. In short, I have six projects under my belt, but I won't stop there!
Wakapedia: We told you that you are a great businessman! But let's talk about art now … How would you define the relationship between art and cuisine?
Berton: Art is a very important aspect for me because it shows forms that can have an influence on the dish. I learned to appreciate art alongside Marchesi, it really opened up a world I didn't know. I'll tell you a particular anecdote: at the end of the service, at the Albereta, Marchesi called me to his office and talked to me about art, culture and life lived until late at night. They were moments of great sharing and they enriched me on a cultural level.
Wakapedia: In short, even for you it was a bit like a grandfather telling you fairy tales before going to bed! (laughs)
Berton: I also learned a lot from another chef, Alain Ducasse with whom I worked four years in Monte Carlo. Even there it was very educational, I immediately felt that his way of thinking, of cooking, corresponded perfectly to me. It made me realize the importance of organizing work methodically, managing, controlling everything … an infallible managerial method that I tried to reproduce.
Wakapedia: And that seems to have worked, given the empire you built today! Can we give you a jacket and a tie ?! Because we would also like to see you with this look. And we are not the only ones I know! (laughs)
Berton: Haha, thanks, but I prefer my white chef's jacket!
Wakapedia: Hahaha, we tried! Last question: what do you think of Japan?
Berton: I was there last November and it was an incredible experience. Japan is truly a unique country that made me fall in love with its culture, its education, its sense of hospitality … and of course its cuisine!
Wakapedia: Are there Japanese influences in your kitchen?
Berton: Of course! I am inspired above all by the cleanliness, rigor, and minimalism of Japanese cuisine which is undoubtedly some of the most interesting parts for me. In my latest menu, I use a lot of broth. The real plate ennoblement. There is undoubtedly an influence of Japanese cuisine, although I never forget my Italian origins.
Wakapedia: Where do you eat when you go to Japan?
Berton: One thing I never give up is eating sushi in the real traditional Sushi-Kan, where there are about fifteen seats, you sit at the counter and you can watch the chef prepare sushi with precise gestures and great calm. The charm of the gesture, of taste … all in such a hidden and intimate place. It is a pleasure every time!
Wakapedia: A restaurant, what would you recommend here in Italy?
Berton: My restaurants, of course!
Wakapedia: As a good businessman, he sells his product first of all !! (laughs) What do you say, now shall we go to the table?
Berton: Of course, after talking a lot, now I let my dishes speak!
(laughs)