For us at Wakapedia, Puglia has a special place in our heart.
The sea is beautiful, the food is excellent, people are authentic and welcoming…
everything contributes to make the time spent here unforgettable. It's no surprise Puglia is now a super popular destination for Italians as well as international tourists.
We had already been there 3 years ago for the Polifonic festival in Monopoli, but we were longing to be back and did not hesitate to choose Puglia for a holiday spot after enduring long months in lockdown. We were keen to rediscover the beauty of Italy while support ing tourism in our beautiful country.
And so we headed to Salento (the south-west end of the Puglia region, the heel of the Italian 'boot') and stayed in a magical place that truly enchanted us: Villa Elia, a splendid eighteenth-century farmhouse 'masseria' surrounded by the olive and orange groves of Salento. Are you wondering what a 'masseria' is? A country house, typical of southern Italy, whose origins date back to the baronial colonization of rural areas between the 16th and 18th Centuries. The term derives from the word "household goods" which defines objects, furniture and tools for agricultural use that were kept inside large stone or brick buildings where landowners, farmers and shepherds lived.
But let's get back to the masseria. Villa Elia is 10 minutes by car from Gallipoli, a beautiful town nicknamed "the pearl of the Ionian Sea". Gallipoli is renowned for its impressive Angevin-Aragonian Castle, for its religious architecture of the Baroque era (over thirty churches in the town historical centre!) and for the fabulous surrounding beaches. These sandy bays, surrounded by exquisit Mediterranean bushes, have been renowned to be some of Italy's best beaches (they constantly rank high in the Legambiente rankings for cleanliness). Why go to the Maldives when we have Gallipoli in Italy!
Are you aching to book a ticket and leave for Puglia yet?! We are only just getting started!
Villa Elia is a magical place, where the past meets the present merging into a timeless balance, where sun and shadow play hide and seek among the olive trees and on the Lecce stone. How not to fall in love with it at first sight? As a matter of fact, this is what happened to entrepreneur Gaetano Castellini, originally from Milan, current happy owner of Villa Elia for over 15 years.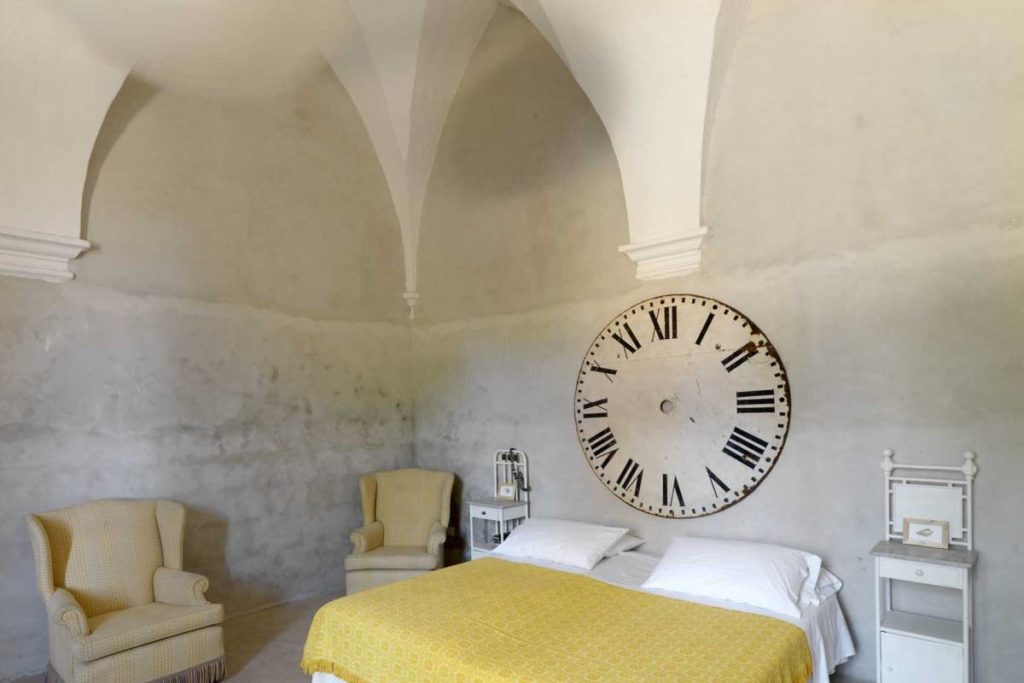 As Castellini recounts, Villa Elia was true love at first sight. Its serene, geometric yet strong silhouette, the large rustic door and the airy succession of the interior spaces on two floors made him fall in love immediately. "When I saw it, I lost my mind, it had to be mine." Like a stubborn lover, he then courted for years the previous owner, an aristocrat from Gallipoli who used it as a country house and who did not want to part with it. With determination and patience he managed to convince him that he would be a good successor and that he would take care of the Villa with true love. In short, he understood how to win HER over!
After purchasing it in 2003, Castellini carefully restored this 1,000+ square meters house to make it unique and welcoming, while respecting the original tones and materials. He then furnished it combining local tradition and his passion for exotic cultures. In all the 8 rooms of the farmhouse open to guests and in the common areas, antique furniture coexist with design pieces, vintage objects, goodies found at the markets, splendid rugs of Queen Rania of Jordan, colorful African sculptures and Tahitian masks. In our room we found a pink and green neon sign with the words 'Macelleria' (=butcher) – such a pop and contemporary detail, very Wakapedia!
In addition to the elegant and extremely authentic atmosphere (forget those predictable luxury hotels, here you can feel the charm of history!), Villa Elia also offers all the comforts to suit the most demanding of customers: air conditioning, home cinema, Wi-fi, swimming pool, Turkish baths, billiards, rental bikes, a mill that produces an excellent olive oil and even two adorable donkeys with some quite original names: Dolce & Gabbana!
Are you still hesitating? We'll take you to the kitchen and we can assure you won't have any doubts on where to spend your next holiday! At Villa Elia, food is simple but extremely tasty.  Fresh eggs arrive every day from the villa's chicken coop. The concept of 'zero km food' (when food is produced, sold and eaten locally) has a literal meaning since fresh ingredients are picked in the garden – that's about 50 meters from earth to plate! Leave it to the chef to sublimate these local ingredients with typical recipes of the Salento cuisine: spaghetti with sea urchins, stuffed pumpkin flowers, octopus "pignata" (a traditional ancient terracotta pot) – we assure you'll be licking 'your mustache', as we say in Italian!
To compensate all the deliciousness Puglia had to offer – burrata, fish, pasta, 'bombette' (meat rolls stuffed with melted cheese and bacon), the list goes on – we were lucky enough to meet Gaetano Castellini's very own superb personal trainer, Luigi Zezza, who came to Villa Elia to rescue us! Sweating out in this beautiful setting was the perfect way to feel less guilty about eating one too many Apulian delicacies.
And if you want to get some pampering after working out, we recommend you rely on Lorena Azzarrito's gold hands for a facial reflexology massage. An exceptional treatment that, thanks to the stimulation of specific points and areas of the face, lets out the stress accumulated in the facial muscles while releasing endorphins and serotonin, promoting relaxation. Pure relaxation, almost mystical!
After taking care of the body, you can also cultivate the mind and enjoy a cultural visit in the historic center of Lecce, a 40-minute drive from Villa Elia. In this splendid city, the Baroque style triumphs at every corner and enriches the facades of the buildings with the warm and golden colors of the Lecce stone. From the Roman amphitheater to the castle of Charles V, from the Cathedral to the basilica of Santa Croce … there is no shortage of things to do and see!
What can I say, our week in Puglia at Villa Elia was truly a dream and undoubtedly deserves 5 Wakapedia stars! And we are not alone in thinking this: great magazines from all over the world – from Elle to the Financial Times or even Vogue Australia – have already written about the villa and Condé Nast Traveler UK has even selected it for its ranking of the "25 best villas in Europe". So what are you waiting for? LET'S GO!