Born in
Castelmartini
, in the province of
Pistoia
,
Enrico Bartolini
is – at only
41
years old – the Italian chef with the most
Michelin
stars. His five restaurants have a total of nine stars.
He discovered his love for cooking as an adolescent working at his uncle's trattoria in Tuscany. To make this passion his vocation, he enrolled in a hospitality training institute and further solidified his talent thanks to several experiences abroad. He worked alongside great masters like Paolo Petroni in Paris and Mark Page in London. On his 30th birthday, Enrico Bartolini received his first Michelin star. It marked the beginning of a (literally) stellar career characterised by many grand openings and consistent success. In 2016, he opened his eponymous restaraunt on the third floor of the MUDEC museum in Milan (which won the coveted three Michelin Stars in 2020). That same year, he inaugurated the Casual Ristorante in Bergamo Città Alta, La Trattoria Enrico Bartolini in the heart of Maremma, Tuscany and the GLAM on the Grand Canal in Venice. When he outgrew the borders of the Belpaese, Bartolini exported his talent abroad where he manages renowned restaurants in Hong Kong, Dubai, and Abu Dhabi.
Wakapedia's Enrico Bartolini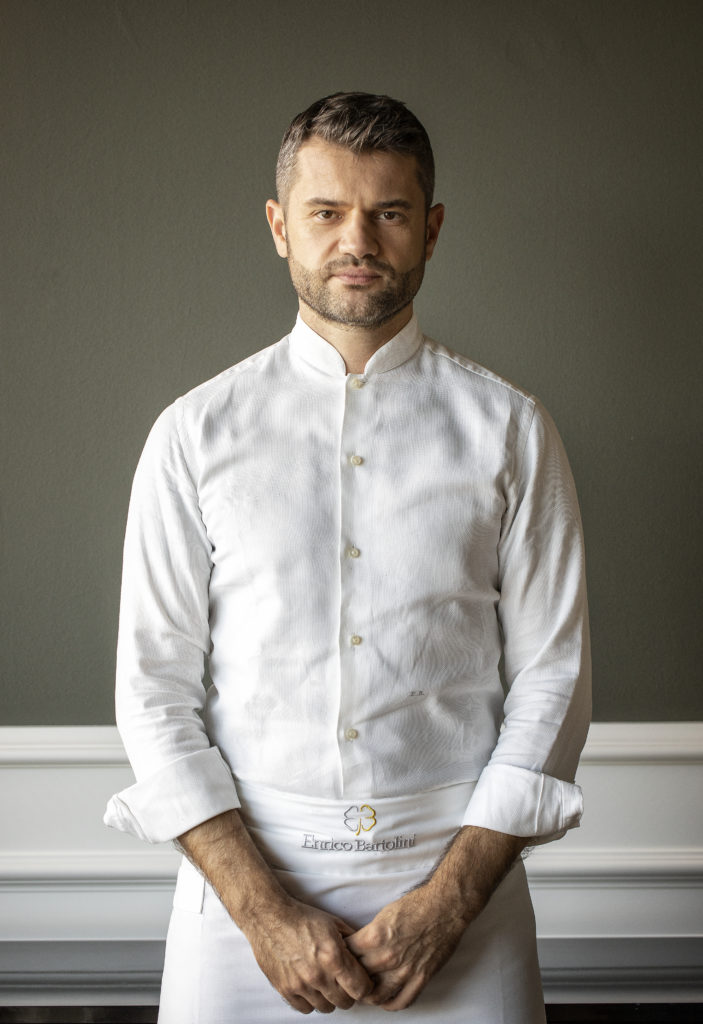 Who is
Enrico Bartolini
really? When we saw him arrive at our table for the interview with his slim build and perfect, mischievous smile we wondered: is he a chef with a brilliant international career,
100
% businessman and a little bit of a perfectionist? Or a party-lover who goes out with models every night on
Corso Como
in
Milan
?
Enrico came out of the kitchen with fogged-up glasses (he was probably simmering something on the stove), took off his chef's hat, and smoothed his hair. It was clear that he takes care of himself and likes making a good impression – a sign that he's a perfectionist?
For over an hour, Enrico shared his personal history and passion for cooking, treating us to some funny anecdotes along the way. One thing we learned is that he is obsessed with the belly and has a surprisingly strict regime for a chef. This obsession carries over to his cooking. "I can't stand fat in general," he said, "even on the fatty parts of the meat I cook. Take pork, for example, if you think it's not a big deal if the stomach is fat, you're wrong! If the animal is slender and the thickness of the fat doesn't exceed 10 cm it's ok, if not I go crazy."
Enrico skilfully preserves and reinterprets the flavours of traditional Italian cooking with contemporary flair. His balanced and light approach and attention even to the smallest details make his cuisine unique and unmistakable. To Enrico, cooking and life are one and the same.
Obsessions aside, Enrico is fascinating because of his determination. Even though he already has a brilliant career and numerous restaurants all over the world, he never stops making an effort to improve himself and his cooking. He told us, "I think a chef's career really starts at forty."
Enjoy our interview of this extraordinary chef who conquers one peak (or star) and already has his eye on the next.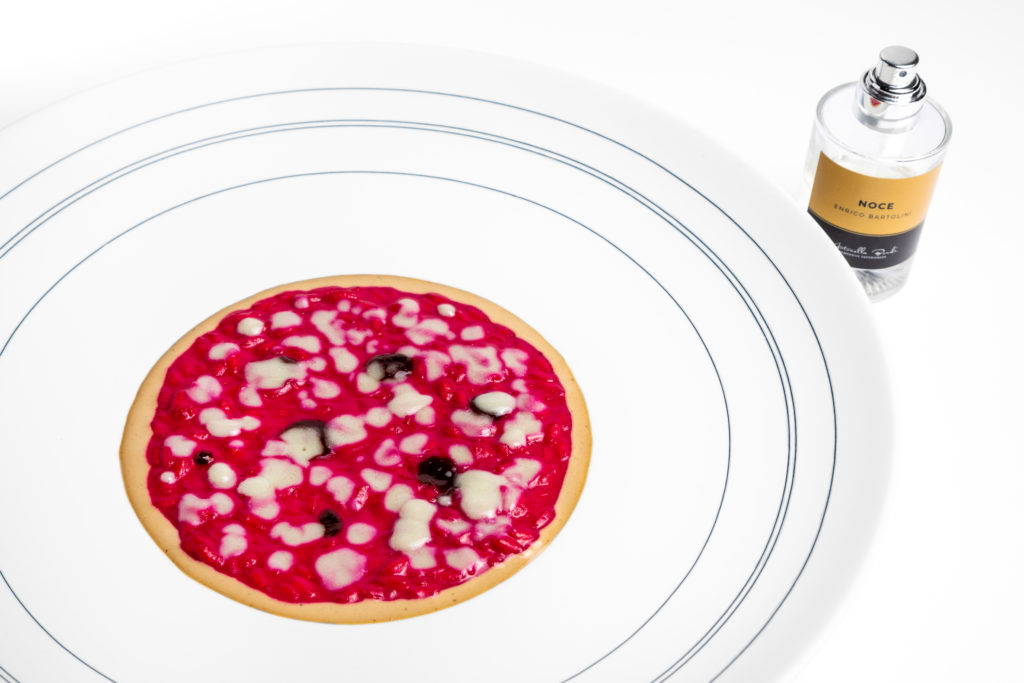 Enrico Bartolini – Interview
 Wakapedia: Enrico – finally! Weren't we meant to meet before you received the third star? Covid messed up our plans a bit, but the important thing is that we managed to sit down together, this time with even more enthusiasm and another star. So please, tell us your story from the beginning.
Enrico Bartolini: It's not easy to locate a precise beginning, but my first day of work for my uncle Attilio does stand out. You have to know that when I as a kid, I wanted to work in my family's shoe company. I was fascinated by manual work and the creation of shoe uppers. But at that time, there was an economic crisis due to Chinese competition, so I had to orient myself towards another sector.I decided to try the restaurant industry and went to work in my uncle's trattoria to see if I liked to cook. My uncle's restaurant was a classic, laid-back Tuscan trattoria, where families loved to gather for birthdays, confirmations, and baptisms. It was a well-known and popular place – they did 600 covers on weekends! It was not haute cuisine, but I learned a lot. I was enchanted by the caramelisation of the spit-roasted meat, the pizza with its round, soft dough, the fresh pasta tossed with porcini and garden-fresh parsley… simple and genuine qualities.
Wakapedia: Well, we are off to a good start! Just one minute into the interview and you made us hungry. Sorry, please continue.
Enrico Bartolini: Already hungry? How is that possible? (laughter) At my uncle's, I also discovered the meaning of hard work, especially on the weekends when the other kids went out. My dad thought that I would become discouraged, but that was not the case. On the contrary, the experience motivated me to enrol in the hospitality institute in 1994 and when I was 14 years old I went to work in the kitchens of the Grand Hotel in Montecatini. I was really attached to that place and thought I would stay there forever, a bit like the workmen who were employed by my father for over 30 years. But after three years, the chef told me, "Enrico, you are too good, you have nothing left to learn here. You have to go somewhere else to develop your talent." I still get teary-eyed when I think back to that day, it broke my heart a bit. But the chef was right. I won a competition at my hospitality school. I was among the five most deserving students of the institution and was given the opportunity to go to London for an internship at the Royal Commonwealth Club under chef Mark Page. It was my first time away from home. It was not easy, but being abroad allowed me to get to know other culinary traditions and taught me modesty… as well as melancholy and the sacrifices one must make for independence. When I returned home, I vowed to never leave. I was so comfortable at my parents' place, with the house so clean and shirts always ironed by my mom." (laughter)
Wakapedia: Are you a bit of a mamma's boy?
Enrico Bartolini: No, not at all. On the contrary, my mother thinks I should dedicate more time and attention to her. But I adore her, even though I make fun of her because she is not, shall we say, a real starred chef. Her dishes are good because they're made with love, but she has no technique. She only learned how to cook fish properly last year! (laughter)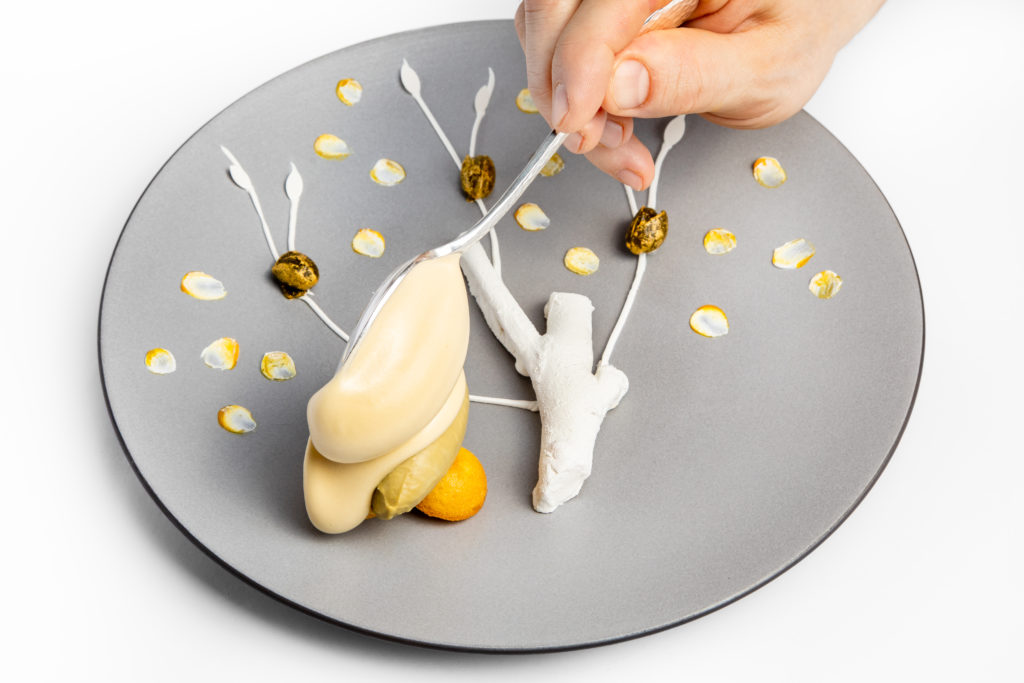 Wakapedia: You're so harsh! It must be difficult to have a son like you, so talented and critical in the kitchen. What did you do when you returned to Italy?
Enrico Bartolini: I enrolled in the department of economics and commerce of the University in Florence. I always had a propensity for business, but I was not good at math. I didn't stay at University for long, however, because I got a job in Paris as sous chef to Paolo Petrini. There, I understood what a luxury restaurant is for the first time. I come from a culture where haute cuisine is considered a pure vice, almost a sin. In Paris, a whole world opened up. I even spent all my savings on my first dinner by myself in a Michelin-star restaurant.
Wakapedia: Our team also lived a similar life in Paris. So many good memories of our student days in that splendid city. How many times we toasted with two-euro wine from Lidl because we were flat broke! (laughter) Did you work with a lot of French people?
Enrico Bartolini: In Paris every memory is a good memory, am I right? In France, I was always with Petrini but he sent me to do internships around town… with Alain Olivares, Alain Dutournier. They were all named Alain in France! (laughter) In Paris I discovered different types of haute cuisine and I just loved it all. After Paris, I moved to Berlin, then returned to Pistoia, and finally landed with the great Massimiliano Alajmo, which was a formative experience. In 2005, I started my 'soloist' career when I took over the restaraunt Le Robinie in the Oltrepò Pavese region (thereby getting myself into a fair amount of debt). The first years were difficult and unstable but I persevered, and in 2009 – on the 24th of November to be precise, the day of my 30th birthday – the first Michelin Star arrived! I had organised a birthday party for myself that turned into a town-wide party to celebrate the achievement of the star. It was an incredible event for the area.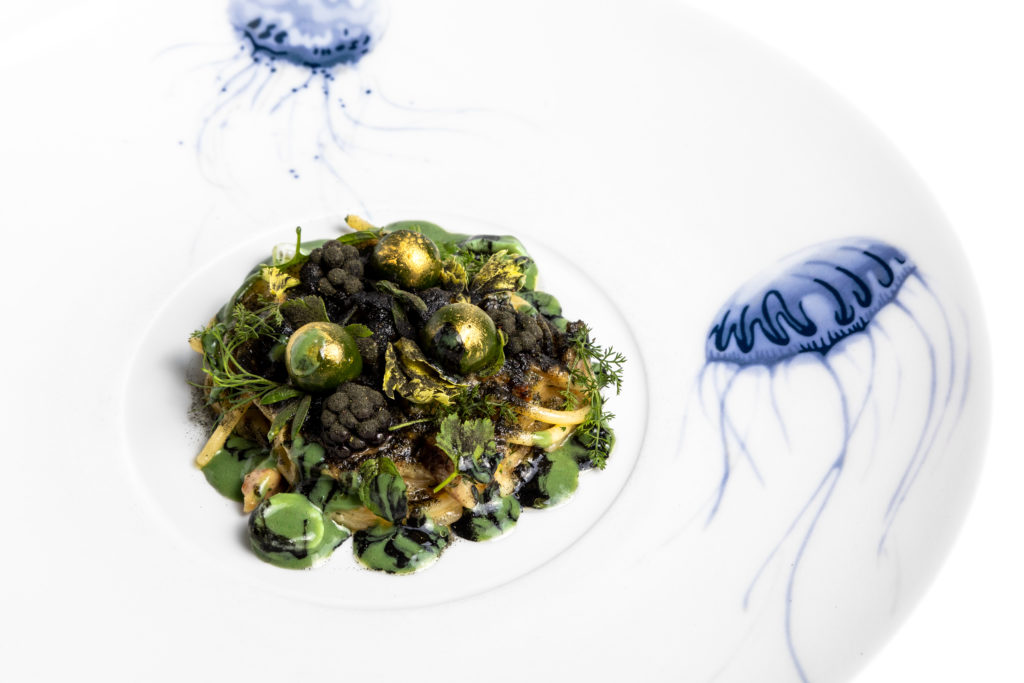 Wakapedia: 30 years old with a Michelin Star – you were remarkably young!
Enrico Bartolini: I would say more young than remarkable! (laughter)
Wakapedia: Stop being modest! Anyway, what did you do after this first miracle?
Enrico Bartolini: The next year, I moved to Brianza and took the helm of the restaurant of the Hotel Devero in Cavenago. It won two stars in 2013. At that point, I started to receive calls from abroad. I went to China, Dubai, and New York and worked on collaborations that brought me economic, professional, and personal satisfaction. But I wanted to return to Italy to create stability, not only for myself but for my 30 collaborators. One day in 2016, I went to MUDEC, the Museum of Culture. It was the perfect time to set myself up in Milan and embrace an international clientele. And here we are, already in our fourth year.
Wakapedia: And on your third star – well done! This success motivated you to open other restaurants, correct?
Enrico Bartolini: Exactly. I was energetic and full of ideas. I opened a restaurant in Bergamo Città Alta and at the same time, Vittorio Moretti asked me to take over the management of the restaurant at the resort L'Andana in the Maremma area of Tuscany. I was under pressure because Alain Ducasse had been there for eight years prior, but I took the plunge anyway. Then I opened in Venice, Hong Kong, Dubai, and Abu Dhabi. That's seven new restaurants between March 26th and September 15th, 2016. And in November of that same year, we won two stars at MUDEC, one in Bergamo, and one at the Andana! I was so happy and a little shocked: four stars in one fell swoop was a world record.
Wakapedia: You must have felt a bit like a rockstar, admit it!
Enrico Bartolini: Quite the opposite. In fact, I live in a state of permanent anxiety, but it's positive because it keeps me grounded. I don't celebrate too much because I think that each star is a stimulus to do better.
Wakapedia: And in fact the stars continued: at GLAM in Venice, at Sant'Uffizio in Florence… you are basically chased by stars! (laughter)
Enrico Bartolini: It's not me personally that brings the stars. What brings the stars is hard work, attention to detail, and quality service. I actually get bored talking about stars, about numbers… what counts for me is being proud of my work. But I am talking a lot, I don't want to bore you.
Wakapedia: Not at all, it's all very interesting! Now tell us a bit about your food. You really love traditional Italian cuisine, is that right?
Enrico Bartolini: Italian cuisine comforts me when it's done well, but I like food from all over the world.
Wakapedia: Does your work seek to reinterpret traditional cuisine in a contemporary key?
Enrico Bartolini: I really like tradition, I think traditional food is so delicious, real comfort food. But to excel, I think you need to get out of your own comfort zone. I would say that my cooking is inspired by traditional recipes. In a gourmet restaurant, grandmothers's home cooking is not enough, even though it's perfect to warm the heart!
Wakapedia: What are your favorite dishes on your menu?
Enrico Bartolini: After the first lockdown, we proposed two tasting menus, one of which was based on white truffles. There is a vegetarian dish I love that unites potent flavours, fragrances, and freshness. It's broccoli-based, with hazelnuts, turnip greens, and white truffle… just amazing. Another favourite is a rice dish with rabbit civet (editor's note: an onion and game stew). It's a dish with a very rich- tasting sauce. There is the rabbit cooked in salmí, olives roasted at the last minute, a drop of rhubarb, and the rice cooked in juniper-infused milk.
Wakapedia: Mmmmm, now our stomachs are rumbling like crazy! Enough talk of food! Our last question is more personal. What is your secret to staying in shape while you work with all those heavenly ingredients in the kitchen?
Enrico Bartolini: Ahaha, thank you for the implicit complement! No secret, just a bit of discipline and rigor. I exercise in the morning and eat sparingly. On Sunday, my day off, I allow myself to indulge. I drink two bottles of wine and smoke a cigar. But during the week it's white rice, prosciutto cotto, fruit, and yogurt. It's important to have a simple, light diet to feel good, not tire the taste buds, and maintain lucidity and efficiency at work.
Wakapedia: You're so wise and disciplined, will you be our nutritionist?
(laughter)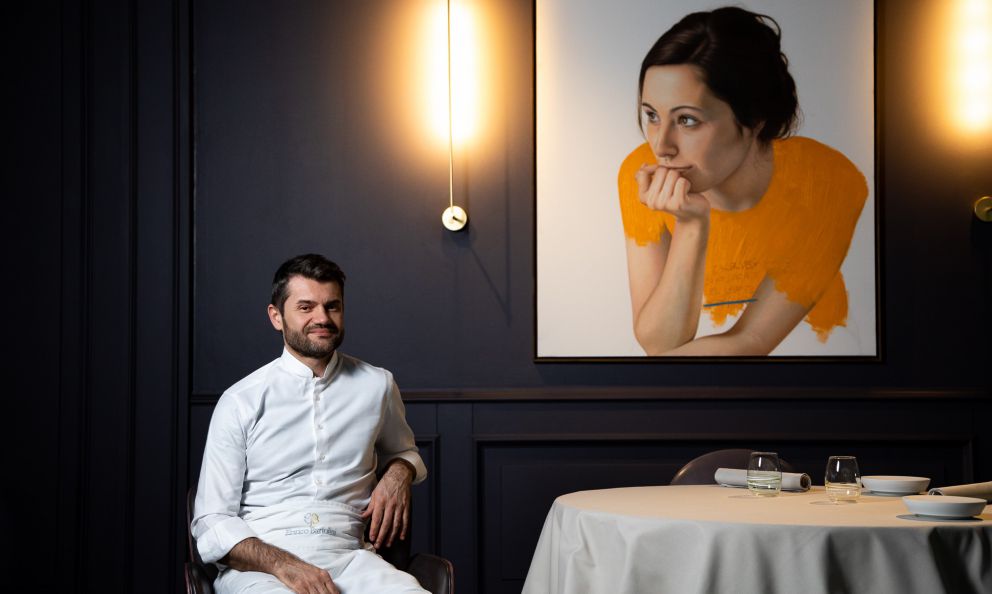 Description & Interview: Sara Waka
Edited by: Kassandra Frua De Angeli