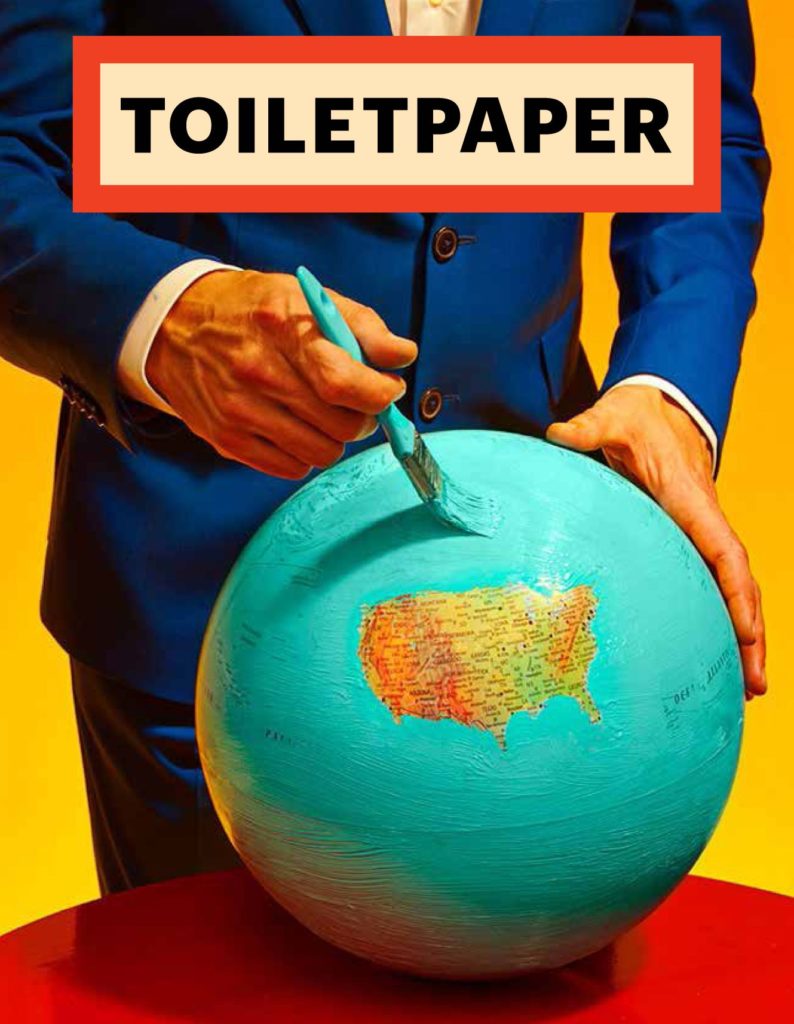 TOILETPAPER magazine is the Art Magazine founded in 2010 by contemporary artist Maurizio Cattelan and fashion photographer Pierpaolo Ferrai, who is well known for collaborations with brands such as Saatchi&Saatchi, Nike, Mercedes, Campari, Sony, Alitalia, Emporio Armani, Kenzo, Maison Kitsune. Under the art direction of Micol Talso TOILETPAPER is published twice a year and can be found online or in bookstores with an artistic slant.
When you hear the word TOILETPAPER, the first thing that comes to mind is the roll of paper found it toilets. Surprisingly however, when you google 'TOILETPAPER' the magazine is now the top result. This isn't a magazine for reading; it doesn't contain a single sentence of prose or even a single word. Instead, laid out over 23 pages are provocative conceptual artistic images. It's a mash-up of Tableau Vivant and fashion. In a recent interview Pierpaolo described the magazine as like having a meal with a family from southern Italy: "23 colours and flavours, coming together in one impactful meal. Blowing you away."Speaking of cuisine, TOILETPAPER has run collaborations with Italian crockery brand Seletti and interior design brand Gufram. Maurizio and Pierpaolo have also worked with fashion brands such as MSGM, KENZO, Maison Kitsune, and taken over the covers of French newspapers Liberación and Le Monde as well as Elle Japan. They've adorned the windows of Paris' art museum, Palais de Tokyo, had a giant poster appear above New York's High Line Park and have exhibited at Kyotographie in Kyoto. They mix it up with consistently stimulating pieces of work.
What are the next surprises they have in store for us?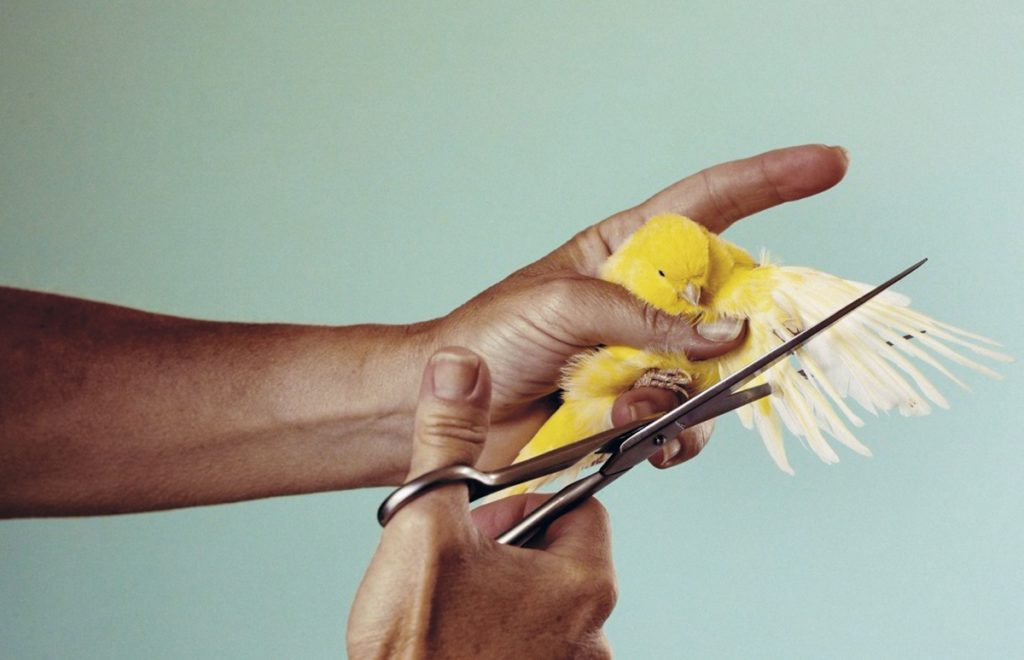 TOILETPAPER Magazine – the birthplace of new phenomena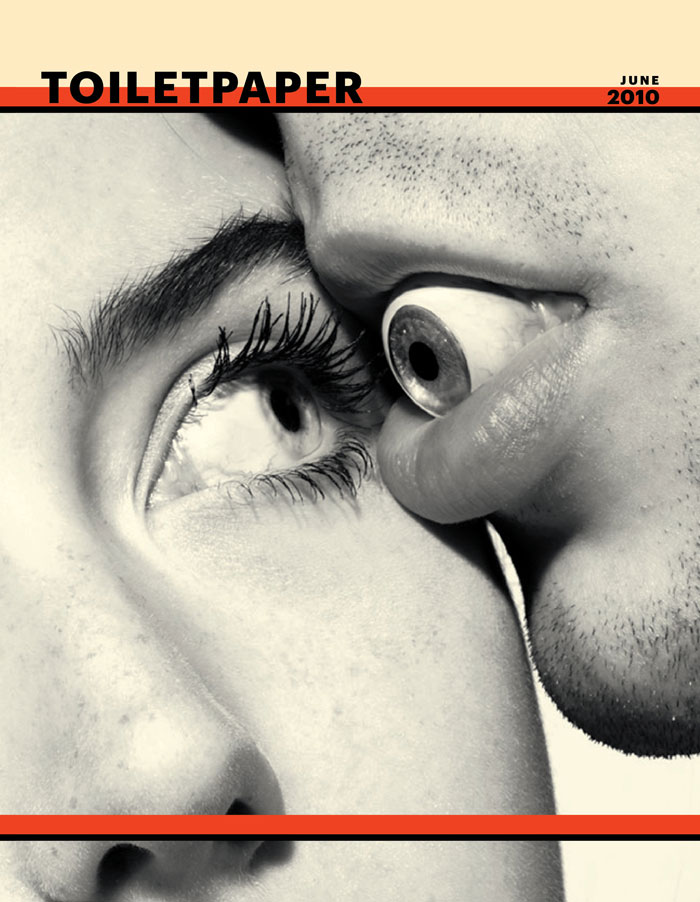 The project began suddenly. Maurizio and Pierpaolo were talking and thought, what would it be like to do something for ourselves rather than working for other people? – and TOILETPAPER was born It was to be an art magazine, one that channeled Cattelan's unique way of communicating via contemporary art and Ferrari's vision of the advertising and fashion industries. They took the medium of photography and filled it with surprising, provocative and paradoxical ideas.
The photos are the stars of the magazine, bold, colourful and full of contrast. There's a way of thinking and an irony to the work that recalls Pop Art, Dadaism and Surrealism. Sex and taboo topics go hand in hand, shaking up establishment perspectives, with an underlying strain of self-deprecating satire. They are taking aim at contemporary art critics, but doing so entirely visually, without writing a single word in their defense. Through their silent stand, TOILETPAPER has reached a broad demographic, bringing them a form of art that is tangible. And to reach an even broader audience, Cattelan and Ferrari keep pushing Pop Art to its limits. Andy Warhol brought Pop Art to the world with his Campbell Soup series… these guys are keeping it alive in the here and now.
How to enjoy TOILETPAPER Magazine?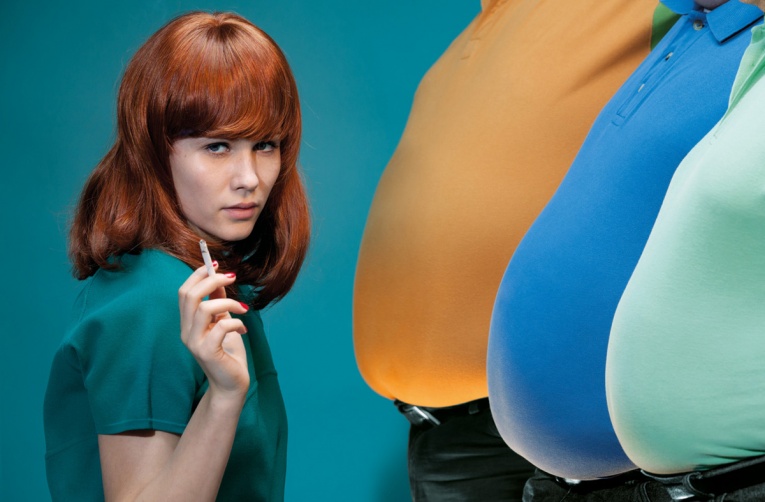 How should one unlock the mystery of an issue of TOILETPAPER Magazine? In order to best enjoy an editorial approach that seems to straddle genius and madness takes a little practice. Typically artists hesitate to explain the meaning behind their work. The key to unlocking meaning isn't something that is just handed out and there could be more than one meaning. So in order to help you guys lost in the maze of TOILETPAPER's genius/madness, Wakapedia offers 4 suggestions on how one may consume and enjoy TOILETPAPER Magazine!
1) Ask yourself – do you actually like the image?
2) Look again to see if you can dig out whether there are any touch points or critiques in the image, perhaps aimed at society or contemporary art?
3) Learn more about Maurizio Cattelan and Pierpaolo Ferrari. As the key persons behind the magazine's creation learning more about their work and career will inform your view.
4) Finally, declare that this whole art thing is a waste of time and throw the magazine away.
For those who chose option 2 and 3, here's a deeper look behind the scenes of TOILETPAPER.
Wakapedia: Why the name TOILETPAPER?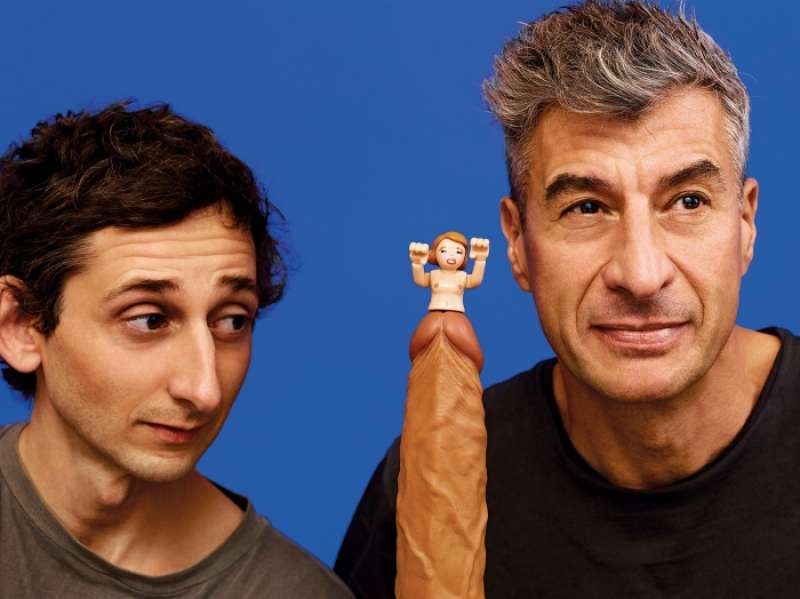 Maurizio Cattelan: I think it's the best name. Don't you? TOILETPAPER is neither art nor photography; it is simply the paper that you wipe your bottom with! When you hear those words, what comes to mind? It's universal! But on the reverse side, there is an ironic interpretation. TOILETPAPER itself holds little value. But at the same time, is essential for all. Rich and poor, they all need bog roll!
Wakapedia: I assumed it was related to scatology that seems to pop up a lot in the artistic world!!
Pierpaolo Ferrari: Maybe more of a Japanese art world thing?
Wakapedia: Definitely not just the Japanese art world! Apparently Mozart was into stuff like that too. Anyway, next question! Some of the products you have created in your collaborations with other companies can be bought fairly cheaply at certain airport souvenirs shops. Is that not a negative for you as an artist?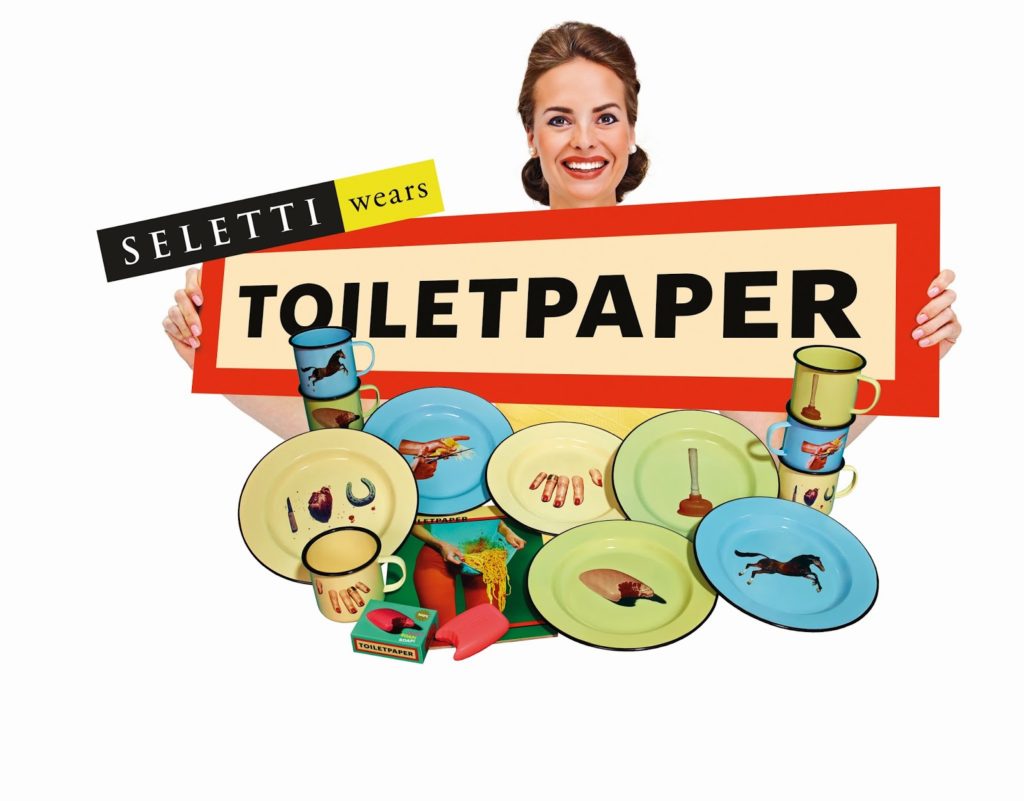 Maurizio Cattelan: Firstly, I don't really consider those objects of design to be pieces of art. It was made to be used by people in their daily lives, and when you see them you may think of Pop Art or you mind may recall Surrealism. But, for me, we are not actually selling such pieces of art, but rather as merchandising. I always thought that it would be interesting to take the images in TOILETPAPER and put them on items people use on a day to day basis like mugs or tote bags. It's a way for people to enjoy art, from an angle from outside the art world. We've recently collaborated with BMW, and have worked with other fashion brands, and I feel frankly quite lucky to be able to accept challenges in fields other than just the artistic one… even your housekeeper could use one of our objects!
Wakapedia: Ok, got it! So tomorrow I'll give my housekeeper Maria a TOILET-Seletti mug for her coffee, and let's see if she'll like it! Would you please tell us in confidence what the true meaning of TOILETPAPER Magazine is? We promise not to tell a soul!
Pierpaolo Ferrari: Okay. Not sure how much we can trust you, but if you say you'll keep our secret, we can tell you something. For us the true meaning of the magazine is its ability to transcend different markets. That is why we are so focused on the impact of the design. The original purpose of the magazine was to establish the TOILETPAPER brand. So the ultimate goal is to see whether we can create collaboration with fashion or luxury brands. Having saying that, I know that this "abstract explanation" is not enough for you…and that you arevery curious.. In short we can say that at the origin there is one idea, and then we will developer and work on this single idea, by using different backgrounds, or by using models or actors. During the production we always take into consideration our Italian culture, it is up to the consumer to interpret the used symbols in the way he find it right.
Wakapedia: Okay, okay, okay… I imagine the father of Pop Art Andy Warhol would agree with such a concept. Feels like a reincarnation of The Factory.
Maurizio and Pierpaolo: …ok, we fancy this idea of Milano's TOILETPAPER-Factory!
Wakapedia: Well, we at Wakapedia look forward to working with TOILETPAPER closely in the future.
Maurizio Cattelan: We are always happy to accept interns!
Wakapedia: What???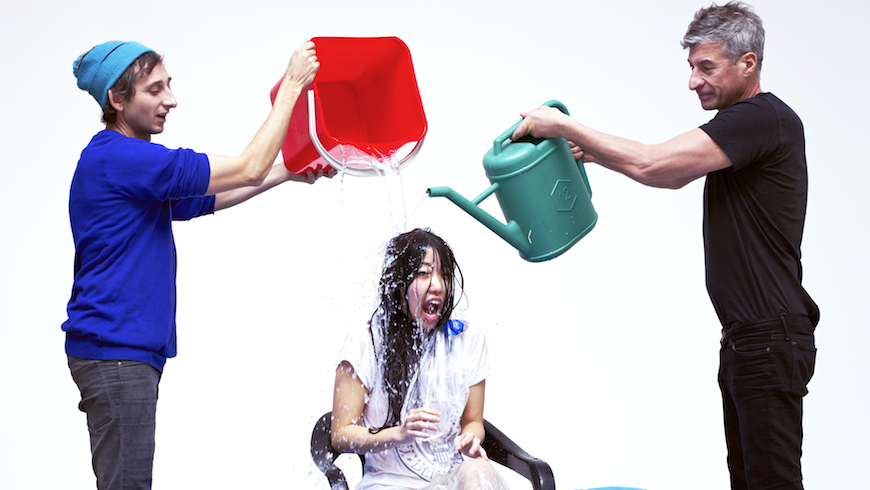 Description & Interview: Sara Waka
Edited by: Michelangelo Bendandi
Photo: Pierpaolo Ferrari