Born in 1978, Dutch father and Ligurian mother, Eugenio Boer is a citizen of the world and a fervent partisan of simple and quality gastronomy. The talent that Boer demonstrates today is the result of over two decades of experience in the kitchens of the greatest Italian and European chefs: Kolja Kleeberg in Germany, Alain Ducasse in France and in Italy Alberto Rizzo, Gaetano Found and Norbert Niederkofler. This perseverance was rewarded in 2017 when Boer obtained his first Michelin star at the reins of the Milanese restaurant Essenza. Unfortunately, misunderstandings with the management of the restaurant abruptly interrupted this moment of grace. At forty years old, Eugenio Boer decided not to let himself be overwhelmed by this unexpected event and to start again relying only on himself. And this personal rebirth bears his name: Bu: r, the restaurant that the chef opened in Milan in via Mercalli 22 in July 2018. Bu: r like the phonetic writing of his Dutch surname, embodies the chef 100%.
WAKAPEDIA' s Eugenio Boer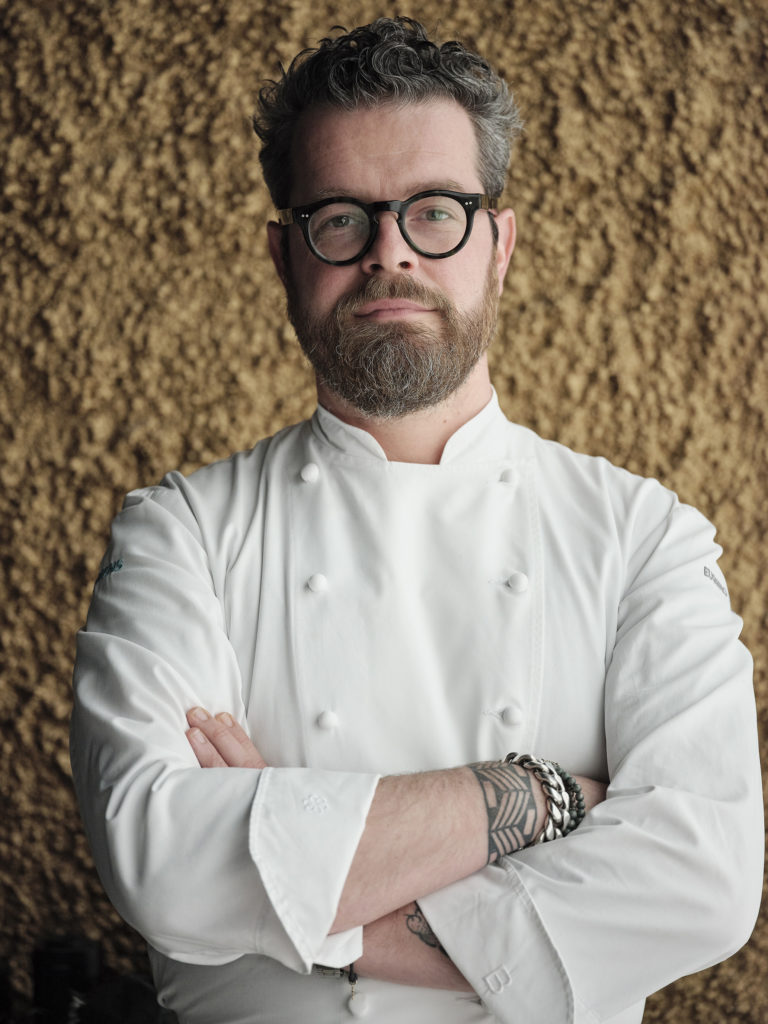 A few months ago the Wakapedia team was invited to dinner in Eugenio Boer's new Milanese restaurant. As we entered, we are greeted by the beautiful and smiling Carlotta, wife of the chef, head of the room and PR and communication manager of the restaurant. Carlotta seats us in the most intimate atmosphere. Dark blue walls, ocher carpets, wood tables and wallpaper with Chinese motifs, inspired by Dutch Delft porcelain.
Eugenio is an extremely kind man, a real piece of bread, although at first glance he can strike a little fear with his look halfway between a hipster and a metal singer, with his many rings and tattoos. Eugenio joined us at dinner to tell us a little about his life and career. Between a joke and a revelation, we shared an extremely convivial moment. It seemed like a family evening, but with the difference that we tasted exceptional dishes!
At Bu: r, guests can choose different tastings such as the menu "Between sea, mountains and fantasy" (at 120 euros) which is a contemporary and cosmopolitan reinterpretation of the classic Mare e Monti: Ligurian and Dutch influences mix with inspirations and ingredients from various countries around the world. Chef Boer's cuisine is a way of sharing himself, his travels and his encounters with people of different cultures and traditions. Flair and simplicity, innovation and tradition, refinement and conviviality … difficult to define with a single word the explosion of flavors that Eugenio's dishes have sparked in our palate.
Our interview can be a bite of his dishes, but the best way to understand is to taste!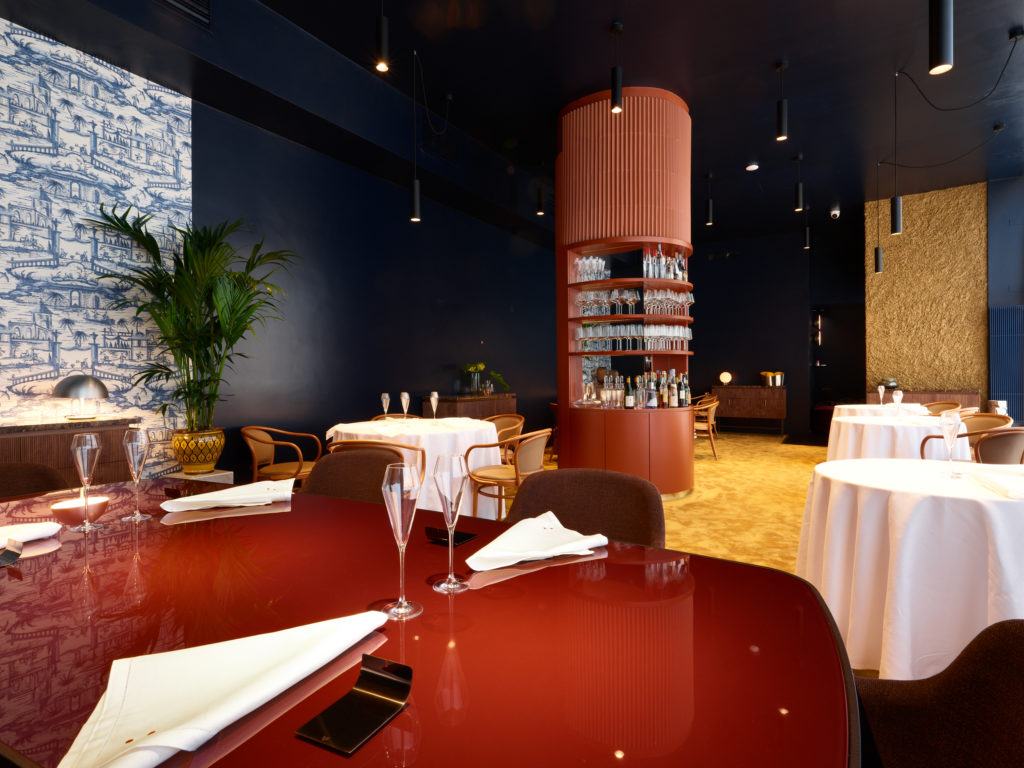 Sara: Great Eugene! I can't describe the emotion we found in your dishes !! What struck us is the combination of textures – solid, liquid, foam – and the stimulation of all the senses – sight, smell, hearing, taste; in short, everything you can imagine … and even more!
Eugenio: Thanks, I'm glad you enjoyed it.
Sara: Very liked! Right girls ?? (Everyone nods passionately, ed.)
Giulia: I particularly liked eating your deer with my hands. I'm not a big visitor to gourmet restaurants, nor an etiquette expert. When I go to restaurants of a certain level, I always look at others to understand what cutlery to take for each course. (Laughter)
Here, however, eating a piece of meat with my hands made me feel very comfortable.
Eugenio: Deer is one of my historical dishes and is often offered at the beginning of the tastings for that very reason. It is a dish that breaks the ice and transgresses the rigidity of the most classic gastronomic restaurants. It is one of my most famous creations and is very popular with customers because while enjoying it they travel in time; they return to the Stone Age, a time when prehistoric men still hunted their prey and killed them by getting their hands dirty. Hence the idea of ​​leaving a light blood taste to the meat and the desire not to use cutlery to taste it. And how did you find another of my emblematic dishes, grilled watermelon?
Giulia: Ah watermelon, very good too! Tell us how you get this amazing effect and how you can keep it from melting on the embers. It is a real challenge to the very consistency of watermelon, a real enigma for the palate!
Eugenio: In this dish, I wanted to put the watermelon in osmosis with itself. After being vacuum packed so that the juices remain inside and the pulp does not melt during cooking, we quickly scald it on the grill. And then I mix it with burrata stracciatella, different types of tomatoes, fried basil and aged Modena vinegar. It is a dish with summer and fresh tastes, which we serve during the summer.
Sara: Ok girls, I know the dishes are super interesting, but now I would like to know more about our dear chef! Eugene, tell us a little about your story; how did you get here?
Eugenio: Ok, I will try to make it short! (Laughter) I was born in Rapallo, Liguria, by mistake. I was supposed to be born in the Netherlands, but I was lazy and didn't want to come out. My parents had to return to Liguria a few days for work reasons and I decided to be born there, in my mother's region.
Sara: So your mom was Ligurian and your dad Dutch, right? And what did your father do, was he also in the restaurant?
Eugenio: No no, my father as a good Dutchman was a flower seller. (Laughter) I know what you're thinking, girls. He could do two things: sell flowers or marijuana… he chose flowers!
Giulia: Eugenio, you actually read our thoughts! (Laughs)
Eugenio: In short, after my birth, we went back to Holland where I spent the first 8 years of my life. That's where I started cooking when I was only 3 years old.
Yoka: 3 years old, but were you a child prodigy ?!
Eugene: I was early, in fact. I mainly cooked with my Ligurian grandmother who, since she was a widow, had come to live with us in Holland. She had brought all her cooking utensils and recipes with her. One of the first things I learned to do with her was fresh pasta. When I was about 8 years old, we left Holland to return to Liguria. At 12 I started working in the kitchen of a restaurant during the high season. I liked it very much and I wanted it to be my full-time job immediately, but my father, as a good trader, wanted me to have a diploma. So, during the 5 years of high school, I went on to divide myself between school and work in the kitchen. I got my diploma, so Dad was happy, and then I devoted myself entirely to the kitchen. I worked in Sicily, Berlin, Tuscany, Trentino, France … I did a 23-year apprenticeship!
Sara: And the haute cuisine where did you learn it?
Eugenio: I was lucky enough to work alongside great chefs. I am a pupil of Norbert Niederkofler, 3 Michelin star chef with his restaurant in Alta Val Badia; I worked with Gaetano Trovato in his 2-star hotel in Colle Val d'Elsa, from Alain Ducasse to the Plaza Athénée in Paris, from Kolja Kleeberg to Berlin…
Yoka: And when did you get the star?
Eugene: 2 years ago from Essenza. A great joy, but then it went as it went; the important thing is to always look forward.
Sara: And you're doing it great with the opening of your first restaurant, the Bu: r. Let's talk about the name you have chosen. It's a really good idea, in my opinion. Not only Bu: r is the pronunciation of your Dutch surname – which means "farmer" – but it is also a tribute to butter, an ingredient that combines your northern European origins with the city of Milan. And by the way, I want to tell you, the butter you serve here is absolutely exceptional.
Eugenio: The essence of the kitchen for me is that. You don't need complicated things on the plate; I have those in my head and they must stay there. The table must remain what it was born for: a meeting place to feel good and spend a nice evening, with family or friends, around a good meal. It must never become too difficult to understand what you eat, otherwise, you lose immediacy; and, immediacy is the key to pleasantness.
Yoka: This simplicity and this attention to detail make me think of the influences of Japanese cuisine, am I wrong? Have you been to Japan before?
Eugene: Unfortunately not yet, but I have traveled around Asia a lot. I have been to China, Hong Kong, Macau and Indonesia several times of course, which was a Dutch colony. The philosophy of life and the rituality shared by the countries of the East are a real source of inspiration for me. I say it with my heart and not because you and Sara have almond-shaped eyes! (Laughs). From Japan, for example, I love perfectionism in the kitchen. I also look for excellence in everything, I am a perfectionist, at work and by nature.
Giulia: So these influences from external cultures are part of your kitchen?
Eugenio: I don't like talking about external cultures, because I don't have a single culture that defines me. I quickly left both of my places of my origin – The Hague in Holland and Liguria – I lost my parents very early … I am not tied to anything and I am influenced by everything. Everything I feel and all of the the people I meet become part of me. I add them to my culture, I somatize them in my recipes and in my ideas.
Giulia: Speaking of returning, if for example, we return to eat here in a few months, what will have changed on the menu?
Eugenio: Almost everything. The menus change according to the ingredients, the seasons, my inspirations. And if some things remain, it is mainly by the will of the customers who expect to find my classics: the deer, the risotto with ash, the pigeon macaron, the egg fallen on the lawn … But apart from these dishes that have become my signature a little, the tastings we offer are constantly changing.
Sara: Then we will definitely be back in a few months! (Laughs)
But, before saying goodbye, can you tell us a little bit about your tattoos? We see them under the shirt and they make us very curious!
Eugenio: I have a lot of tattoos, they are almost all linked to places where I have been and to moments in my personal life. I have two masks from Indonesian theater that represent good and evil, a gingerbread on the arm, and a hot air balloon that is actually a heart and a brain that go around with a chef's hat.
Sara: Aahhh, well quite… original! But I guess we prefer your dishes to your tattoos! (Laughs)
Eugenio: It's better this way than the opposite!!
(Laughs)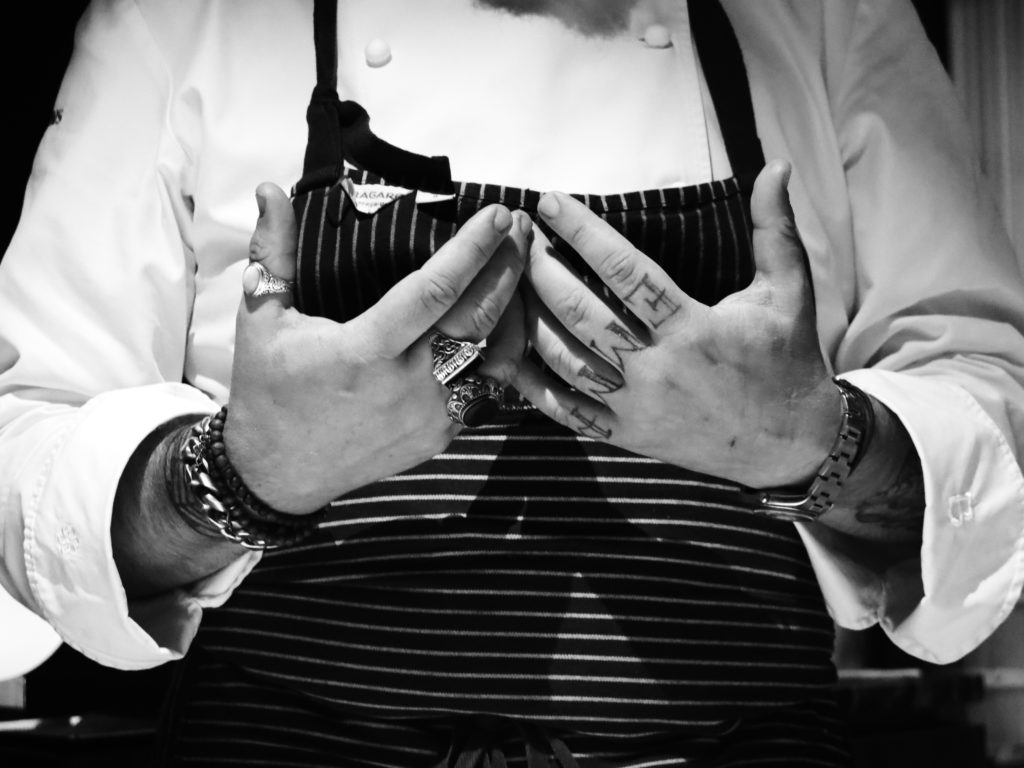 Description & Interview: Sara Waka
Edited by: Kate Burson