Born in 1984 in Nagano prefecture, Miwa Komatsu is one of the most promising contemporary Japanese artists. She began her professional career with the copper print entitled 49 days which she made when she was still a student at Joshibi University of Art and Design in Tokyo. She then ventured into acrylic painting, Arita-yake porcelain (a traditional Japanese technique from the Arita region), and live painting. Her works center on themes such as gods, sacred animals, and mythology. In 2015, her porcelain work Arita Komainu (Guard Dogs of Heaven and Earth) was shown at the Chelsea Flower Show, a gardening event organised by the Royal Horticultural Society. The dogs also joined the permanent collection of the British Museum in London – a real affirmation and blessing for an emerging artist. In 2019, her virtual reality work, Prayer = INORI, was nominated in the VR category at the 76th annual Venice Film Festival and received international acclaim. Her artistic installation about the harmony between humans and the environment, Next Mandala – The Great Harmony, on exhibit at the Taro Okamoto Art Museum in Kawasaki from 25 June to 28 August 2022, was a great success and will be presented again at the To-ji Temple UNESCO World Heritage Site in Kyoto in 2023.
WAKAPEDIA'S MIWA KOMATSU
On a very hot August day, we were waiting for our train on a bench of a Japanese station, eating an ice cream. We had heard a lot about the young and promising Miwa Komatsu and were struck by her mysterious and sacred vision of the world. So we decided to meet and interview her for Wakapedia at the Hankyu Umeda department store, where her work Miwa Komatsu – Spirituality and Mandala was on exhibit until September 19, 2022. While there, we had the privilege of watching one of her live paintings. We couldn't imagine what was in store for us when she walked in the room. Her performance was wild and intense and contrasted sharply to her sweet and refined appearance (like a girl who drinks matcha tea in elegant porcelain cups, to give you an idea). It turned out to be a full-on ritual that even started with a meditation session.
During the live painting, Miwa Komatsu applied the paint with her bare hands onto the canvas. She threw the tubes and brushes on the ground while her hair and hakama (traditional Japanese ceremonial dress consisting of large pleated pants and tunic, both immaculate white in color) were increasingly stained with splatters of paint. Not only was she herself one with her work of art, but the spectators also felt like they were involved; everything seemed connected and part of a new dimension.
After the performance, the long-awaited moment of the interview finally arrived. Approaching her, we were struck by how her delicate and refined Japanese beauty and her calm demeanour and gentle voice contrasted with the sharpness and depth of her gaze. Her eyes shone with a peculiar and intense light and a mysterious and mystical aura emanated from her body that was full of energy. She made us think of a heroine from the animated films of Miyazaki's Studio Ghibli! It was exciting to hear this young artist speak about art, life, death, and religion from her unique perspective. With such an artist, the interview could be nothing short of a revelation. Read on and your chakras might open!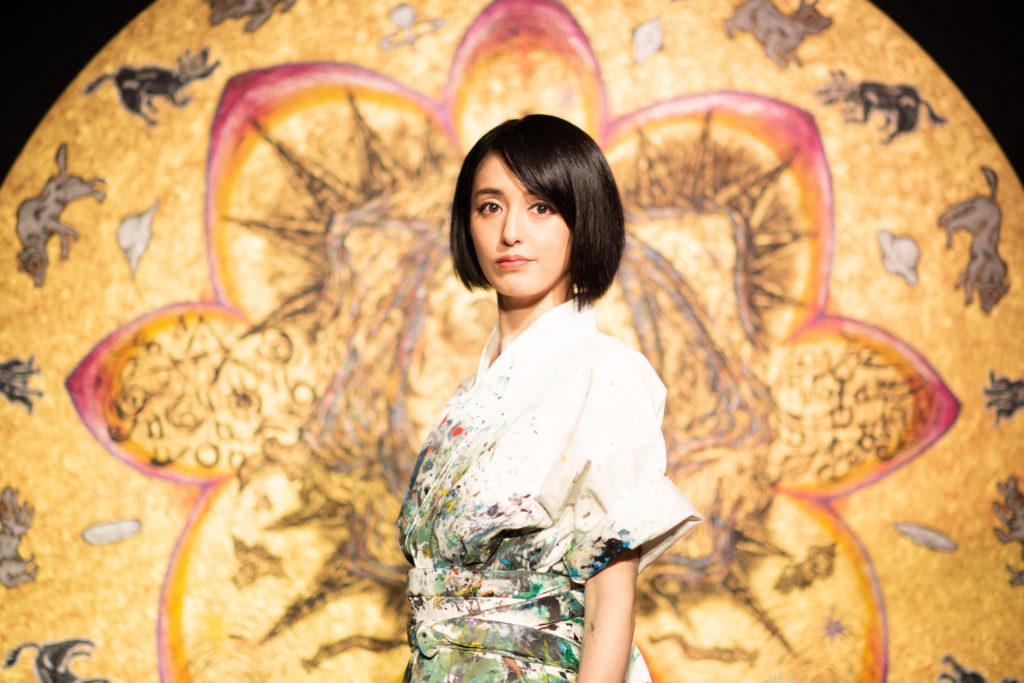 Wakapedia: Hi Miwa, we were looking forward to interviewing you! We just have to say that we find you… incredibly cool! Excuse us for being such groupies!
Miwa Komatsu: Arigatou (smiling shyly in typical Japanese fashion).
Wakapedia: There are so many questions we would like to ask, we don't know where to start. Can you tell us about your background? We have read that the mystical world you depict in your works is a world that you really see, and have seen since childhood. Have you always been sensitive to spirituality?
Miwa Komatsu: When I was little I grew up surrounded by the great forests in the Nagano region and had many opportunities to meet the spirits and the sacred animals that lived there. Because of this power, my paranormal sensitivity, my classmates avoided me. So, when I skipped school, my mother took me to art galleries and I think that was the beginning of my passion for painting. I remember thinking: "There is a world beyond painting; painting can help people see the invisible, to heal."
Wakapedia: Wow, what an amazing childhood! Forget spirits! The only things that we saw back then were Pokemon… on TV! (laughter) All joking aside, when we look at your paintings we feel that they emit a mysterious and ambivalent energy. Have you always drawn the so-called sacred animals?
Miwa Komatsu: I have been drawing animals for a long time, but it was only at eighteen that I began to depict sacred animals. I knew I wanted to represent life, death, and the spirits in my art, but I didn't know how to give form to it all. The turning point was my grandfather's death, when I was nineteen. As he exhaled his last breath, I saw his soul leave his body. That was the trigger for me; what I couldn't put into words became an image. From there, the work 49 days was born.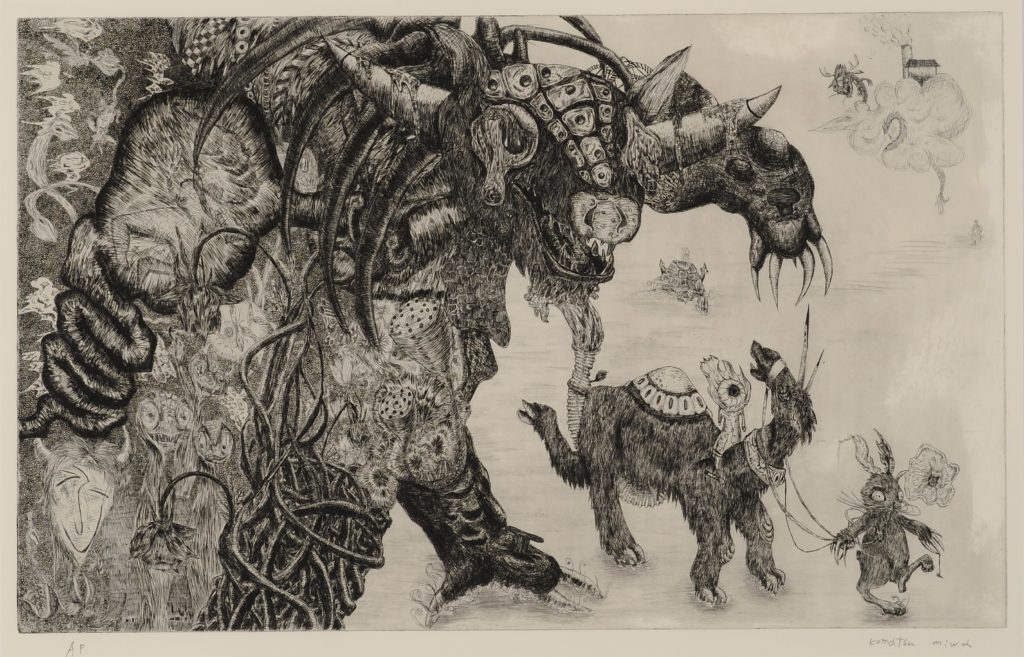 Wakapedia: What an interesting and very spiritual vision! If we are a soul, we can change form and not be limited by a body. Many of our meetings this year, especially at the Venice Biennale, made us reflect on this new vision of human nature, which is in continuous metamorphosis and evolution. We are becoming more and more convinced that the Wakapedia team was destined to meet you!
What do you think about being a female contemporary artist?
Miwa Komatsu: I am asked this question often, but I don't see myself as a female artist. It's true that my physical body has a female form, but I believe that the soul has no gender and that nature, animals, and human beings are all the same. It's important for me to nourish and cultivate my soul through artistic creation. I try to connect with others through my paintings so that we can grow together. However, the fact that women have a womb (a mystical space able to create life with a soul) is a marvellous ability that makes women very powerful. I believe this power has a lot to do with my work.
Wakapedia: An interesting perspective! How has your style changed since you started painting?
Miwa Komatsu: At first I painted spirits and what I saw in nature. At the age of twenty, I had psychological problems and suffered from alopecia caused by stress. I lived in poverty for a long time, my diet and lifestyle were inadequate. Then, around the age of thirty, I learned how to meditate in Thailand and started doing it before painting. Many things have changed completely since then. Thanks to meditation, I can better visualise and channel my interior energy, to control the images and colors that I imagine. I feel interconnected not only with my deeper Self, but also with the world. My universe seems to have expanded.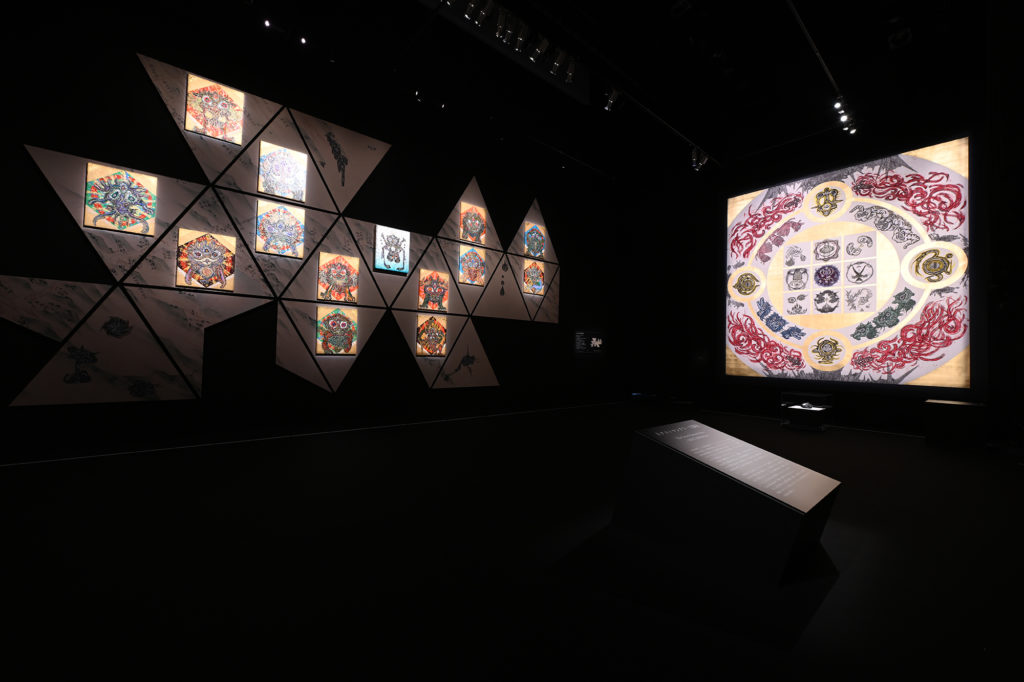 Wakapedia: Wow, you are so wise… and zen! You make us want to go get the yoga mat! In addition to discovering meditation and overcoming difficulty, what else has brought you to your current style? We know you do a lot of live performances. Have these experiences had a significant impact?
Miwa Komatsu: My live painting at the Lazzaretto Vecchio in Venice is one of the experiences that  marked me the most, teaching me the importance of prayer. It was the first time that I started crying while I was painting. I painted this work in memory of those who died in that place, but also to thank Italy, a country to which I am very attached. A part from this specific event, all my experiences, all that I lived through and learned, have contributed to making my art what it is today. For me, everything is linked and interconnected. To put it emphatically, I believe that even the disappearance of a star tens of thousands of light years away, the presence of a passer-by on my path, or the mere sight of a flower blooming on the roadside have had some sort of influence on me and on my works.
Wakapedia: Every experience has its weight. In short, nothing is wasted!
Your works are very spiritual, can you tell us about your relationship with religion?
Miwa Komatsu: First of all, I think that it's very important to know and respect other people's religion and beliefs. Personally, I identify as SBNR (spiritual but not religious) so I don't follow a specific religion, but I'm interested in Thai Buddhism and I studied the Torah with rabbis and Jewish phycologists as well as the Bible. Once, while I was walking at the Izumo Taisha Grand Shrine (one of the oldest and most important Shinto shrines in Japan), I saw a rainbow-coloured light crossing the clouds. In that moment, I seemed to be living a scene from the Bible. For me religion or the specific name of a cult doesn't really matter; it's the spiritual feeling itself that counts.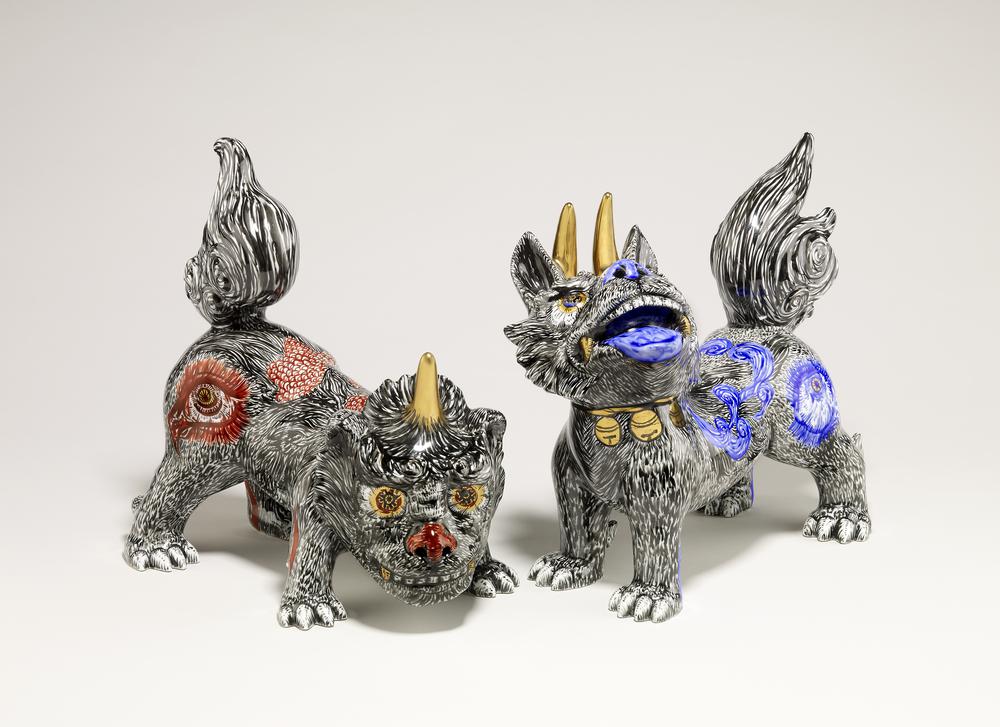 Wakapedia: What messages do you want to convey through your art and how do you express them?
Miwa Komatsu: Since the Second World War, we have been living in an era of great acceleration. The Earth's resources have started to run out and the planet is crying out to us. I think we need to transition from the Great Acceleration to the Great Harmonisation. People, animals, insects, fish, and all living things possess a precious spark of life. Instead of making distinctions and becoming exclusive, instead of discriminating, we should recognise each other and live in harmony. I create works of art in the hope that they will allow people's souls to go in this direction.
Wakapedia:  Digitalization is progressing in the art industry and digital art is being increasingly discussed. As an artist that appreciates nature and spirituality, what do you think?
Miwa Komatsu: Human beings created digital art, even robots are human creations! I think that from now on, creatives won't be the only ones to appropriate the digital, the way in which the viewer perceives art will also be questioned. Some people have an affinity with digital art while others prefer the traditional and analogue. Each person reacts differently to a work. I believe it's important that everyone respects their own tastes and responds authentically, rather than denying or affirming something categorically.
Wakapedia: We wish this interview would never end, it's fascinating! Alas, this is our last question. What does art mean to you?
Miwa Komatsu: I believe art is medicine that saves and heals the heart and soul. It doesn't matter if it's digital or traditional art, what matters is that it pushes people to think, meditate, know themselves better and, why not, heal their inner traumas.
Wakapedia: We thought we were experts in contemporary art but thanks to you, today we saw things from a new perspective – a mystical and fantastic one! In short, meeting you was not just a coincidence, it was destiny!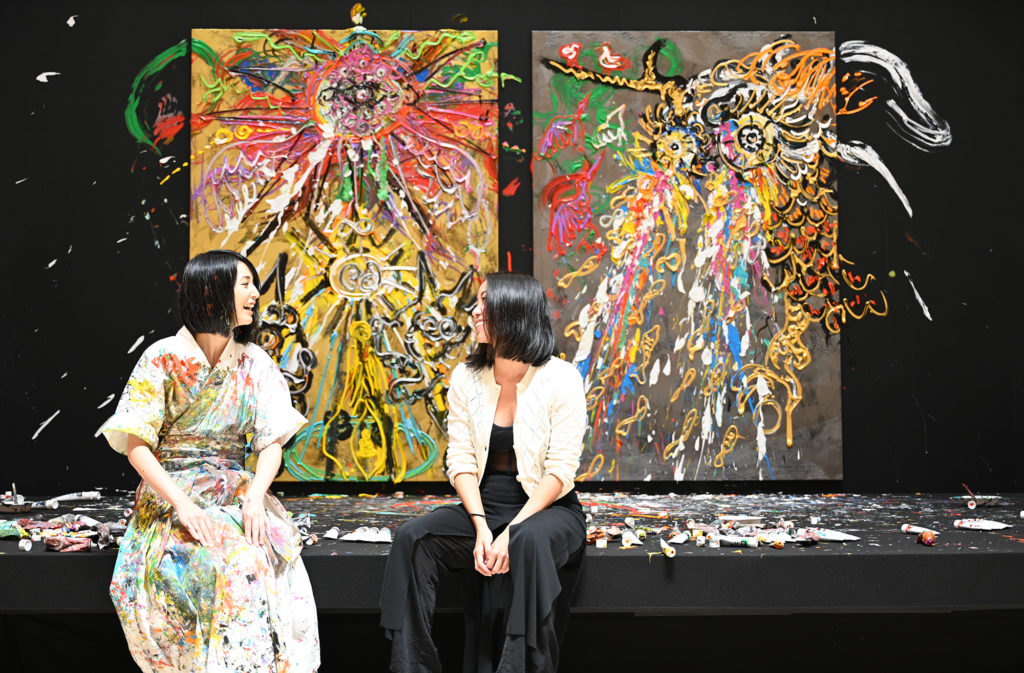 Description & Interview: Sara Waka
Edited by: Kassandra Frua De Angeli