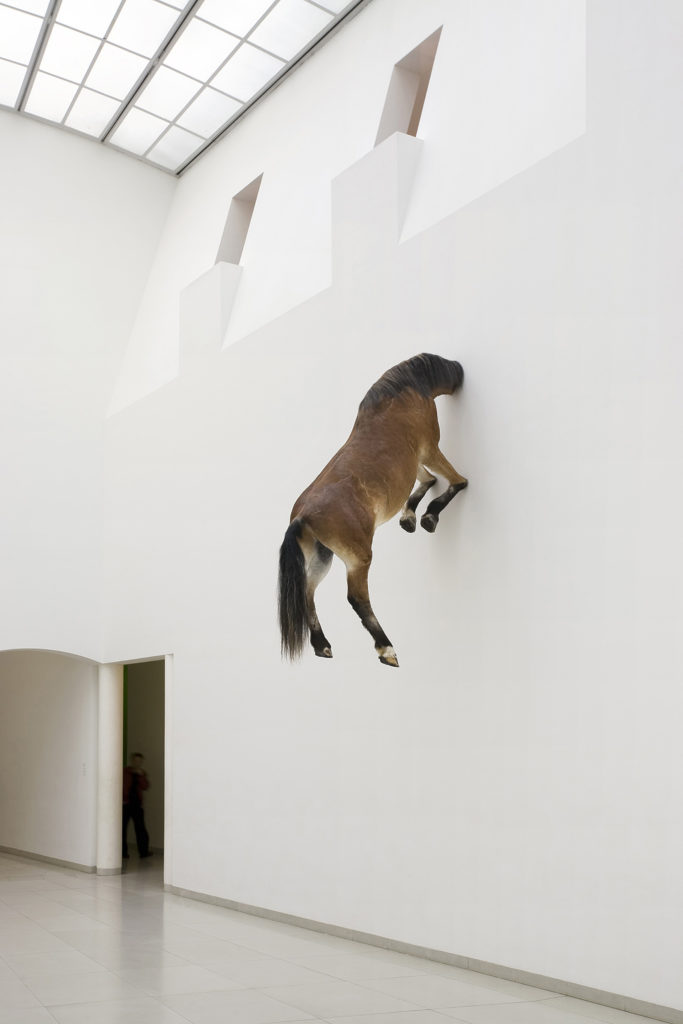 Born in Padua, Italy in 1960, Maurizio Cattelan has become one of Italy's foremost conceptual artists. His work has been exhibited in international institutions the likes of France's Centre Pompidou and New York's MOMA, and made headlines in 2002 when his installation "Him," depicting a kneeling Adolf Hitler, sold for $17.2 Million at auction. His credits include a survey of his life's work at the Guggenheim in 2011 and again at the French National Mint (Monnaie de Paris) in 2016. That same year, the Guggenheim installed his controversial piece, "AMERICA", a fully functional 18 karat gold toilet, which museum visitors were encouraged to use. He lives and works between New York and Milan, and continues to attract attention from all over the world.
Ever the host, of "fake Biennales" around the world, and the showman, pulling subversive stunts at the Venice Biennale, he is now the subject of Maura Axelrod's film "Be Right Back".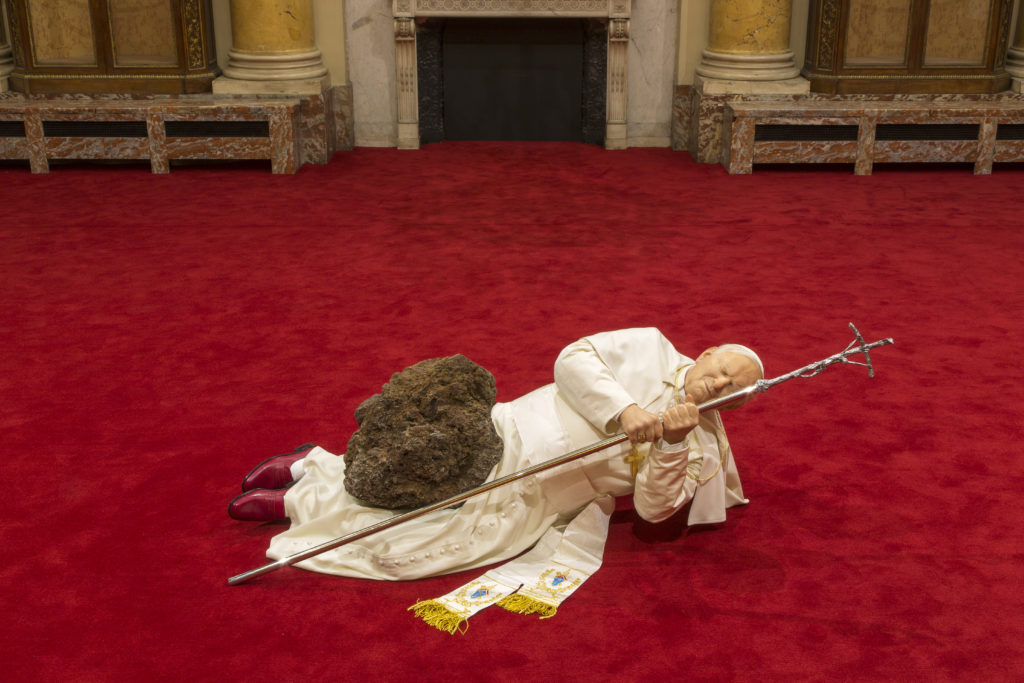 WAKAPEDIA's  Maurizio Cattelan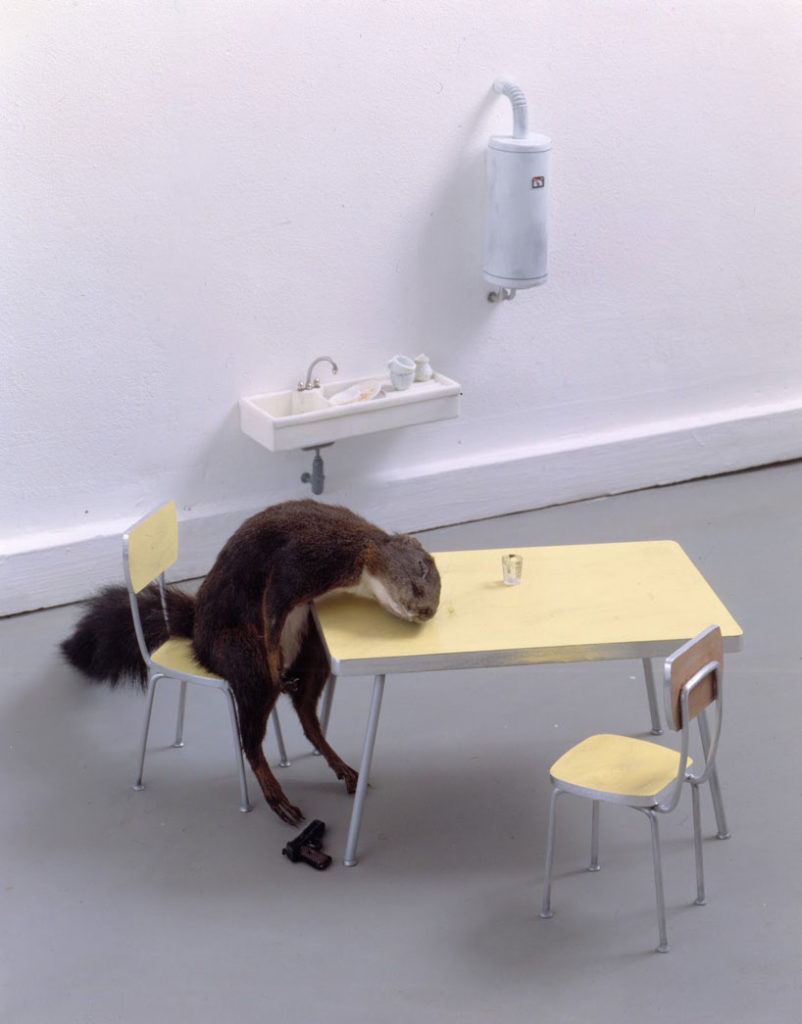 Enigmatic or shy? Egomaniacal or generous? Audacious only in business or also with women? The multi-faceted personality of Cattelan is inseparable from his artistic practice, defined by a combination of fierce criticism of society and perverted fantasies.
Sitting before us today, with his well-coiffed gray hair, cutting that distinct Italian figure that straddles the line between dandy and rake, is Maruizio Cattelan. He's approaching his 60th birthday, but his energy and style obscures his age dressed always in black or white, skinny jeans, striped or his own hand-made t-shirts.
WHAT WE THINK ABOUT HIM

Maurizio has the hyperactive energy of a little boy, forever dressed youthfully in t-shirts and skinny trousers highlighting his long legs. I must explain that the appreciation of his physique is a particularly Japanese taste. The Japanese love long legs and small heads. But the Maurizio's most impressive feature is undoubtedly his big nose! A nose fetishist would not be able to resist. We think Maurizio resembles a toy, and combined with a manner of speech often vulgar and littered with innuendo, we've come to imagine him as a great big living sex-toy.
Maurizo speaks in a sequence of jokes, but the longer we talk, the more complex and puzzling he becomes. He is notorious for avoiding speaking for or about himself, and on the rare occasions he does broach the subject of his own past, there's no way to be sure what we're hearing is true. This is one the reasons that he's one of Wakapedia's favorite people.
WHAT OTHERS SAY ABOUT HIM
"I wrote my dissertation on Cattelan after seeing a show in London featuring suicide squirrel … the idea of ​​an innocent animal shooting itself struck me as something very raw. I like Maurizio because he succeeds in delivering a concept simply but still capable of making you reflect."   Francesco Bocchini (Former Contemporary Art Student in Milan).
"I met Cattelan reading a book by Nicola Brio, where Maurizio was heavily quoted. Then, seeing his works, I was fascinated by the fact that they were accepted by society and the art world. I understood then that the personality of the artist was a critical factor. "   Yu Takagi (Former Contemporary Art Student in Tokyo).
"Maurizio is a real influencer, nothing compared to dime-a-dozen bloggers!"   Sara Waka (Former School of Art Communications).
SO! MAURIZIO CATTELAN – SHINE YOUR LIGHT ON US LIKE A SHINY GOLD TOILET!!!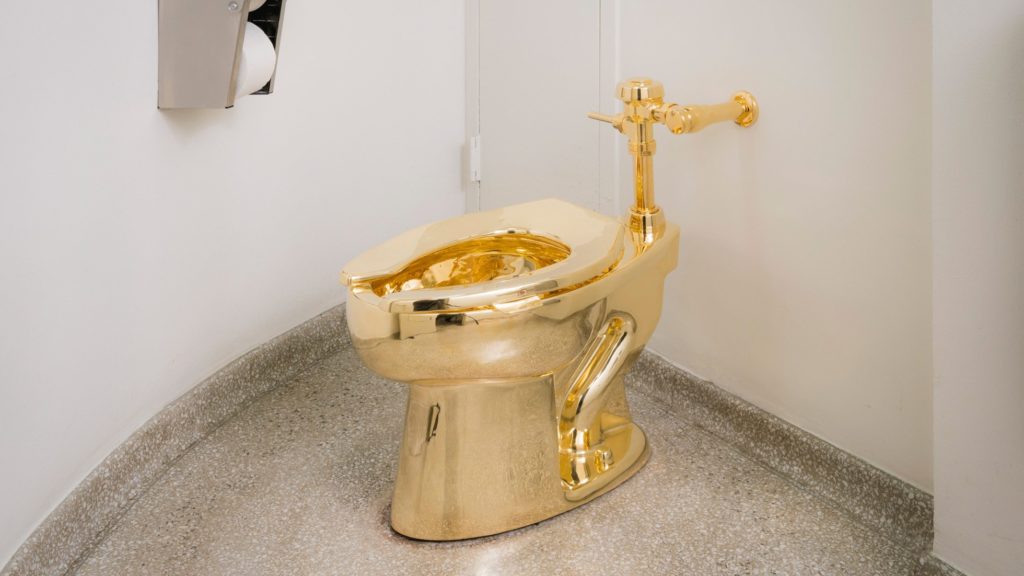 First you should know that Maurizio is famous for avoiding interviews. He escapes on his beloved bicycle if someone tries to talk to him, but this time we caught him!
Wakapedia: Look by now we know your tricks. Stop trying to get away!
Maurizio: I have a dentist appointment!
Wakapedia: Your dentist appointment was yesterday. And don't tell me you are going to the hairdresser because I know you were at Shinichi two days ago. Now, tell us about your past!
Maurizio: Why? My past is boring! Why are people always in interested in others peoples shit?
Wakapedia: Because other people's shit is more interesting?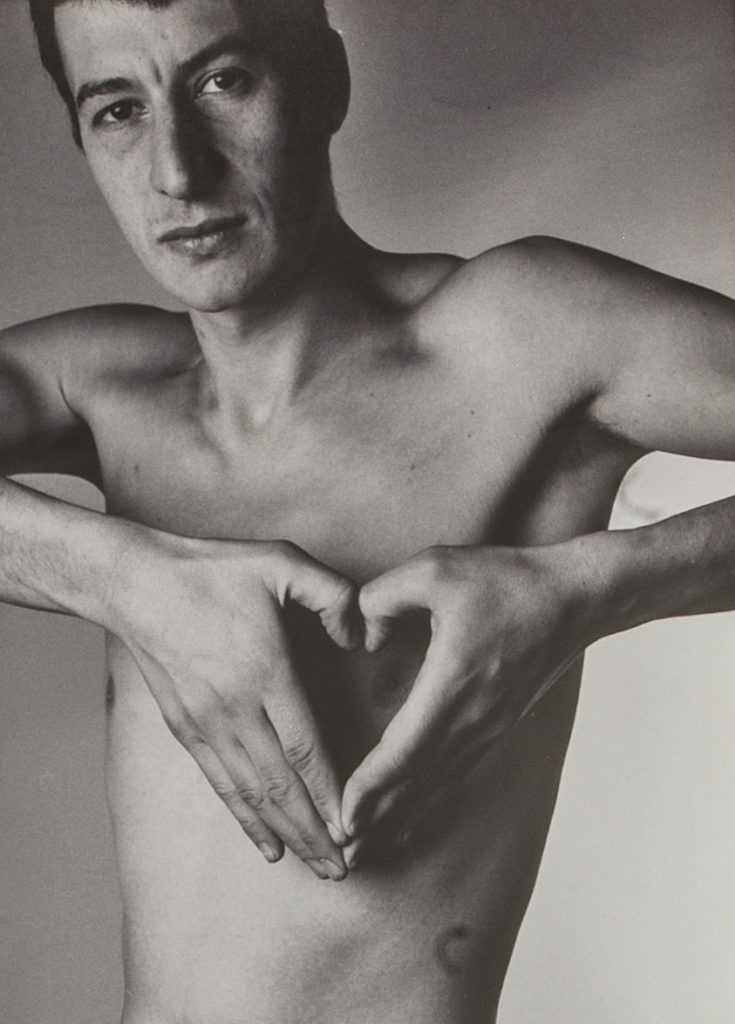 Maurizio: … I only have vague memories of my youth. I can only tell you that childhood was the worst period of my life.
I destroyed all family photos I appeared in. I don't have a single image of me between the age of 1 and 18. Perhaps creating so many self-portraits is a way to compensate for that.
Wakapedia: So, is it possible that a traumatic upbringing had some influence on the art you would one day produce? You know, like a lot of contemporary artists?
Maurizio: Not necessarily. My family were devout Catholics with no interest in art or culture. We weren't rich. At times the toilet wasn't in the house and my mother bathed me once a week in the same water she washed the laundry. But I'm not going to moan about being poor and miserable because I had everything I needed and never lacked anything essential.
I never loved school. I didn't like school and that became a problem. At 12 I was expelled and it didn't get any better seeing as I dropped out of high school to enrol in an evening school that I attended inconsistently. Thinking back, I realize that the school system didn't bestow on me anything it should have, apart from teaching me to survive. School certainly didn't inspired me to be an artist!
Wakapedia: You have an exceptionally wide range of interests though, and you never wanted to go to university?
Maurizio: I did make one attempt, enrolling in architecture at the University of Venice, but I quickly realized I didn't want to spend all my time there! It seems the only thing I ever learned from education was how to survive unpleasant experiences.
Wakapedia: What did you do after that? How did you get into the art world?
Maurizio: I've done everything. I was a nurse, a dustbin man, a security guard. I worked as a cleaning lady at a morgue! But I wanted the freedom to work on my own, not under someone else, so I quit. Looking back on it, the day I finally quit those kinds of jobs was the happiest day of my life. At the time, there was someone I knew who had their own atelier in the neighborhood. I had just started living by self, with no money, and no furniture in my place, so I would take the rubbish waiting for incineration from the atelier and I started to build my own furniture.
Wakapedia: And little by little, you turned into an artist! Do you remember the first art exhibition you ever saw?
Maurizio:  During the time I was a nurse, maybe around 20 years old? I chanced up Michelangelo Pistoletto's exhibition in Padua. I was intrigued by the mirrors but at the same time it annoyed me to see so my reflection in works of art! I had the weird sensation that it was me being framed. That discomfort was maybe the trigger that got me interested in art.
Wakapedia: Oooo! You revealed something personal about your past! Now I'm going to ask you the question that you really hate – please give us some insight into your pieces.
Maurizio: I think the role of the artist is to ask questions, not to give answers, so I give the viewers of my total freedom of interpretation. Aaahaha! There's nothing as fun as the power of imagination. (Laughs)
Wakapedia: You found your way out of that one very nicely! (laughs) irony and provocation are an essential part of your work. With your subversive interventions in the most institutional environments such as museums and galleries, you put into question their roles and often that of art critics and even viewers. How should the art world work, in your opinion?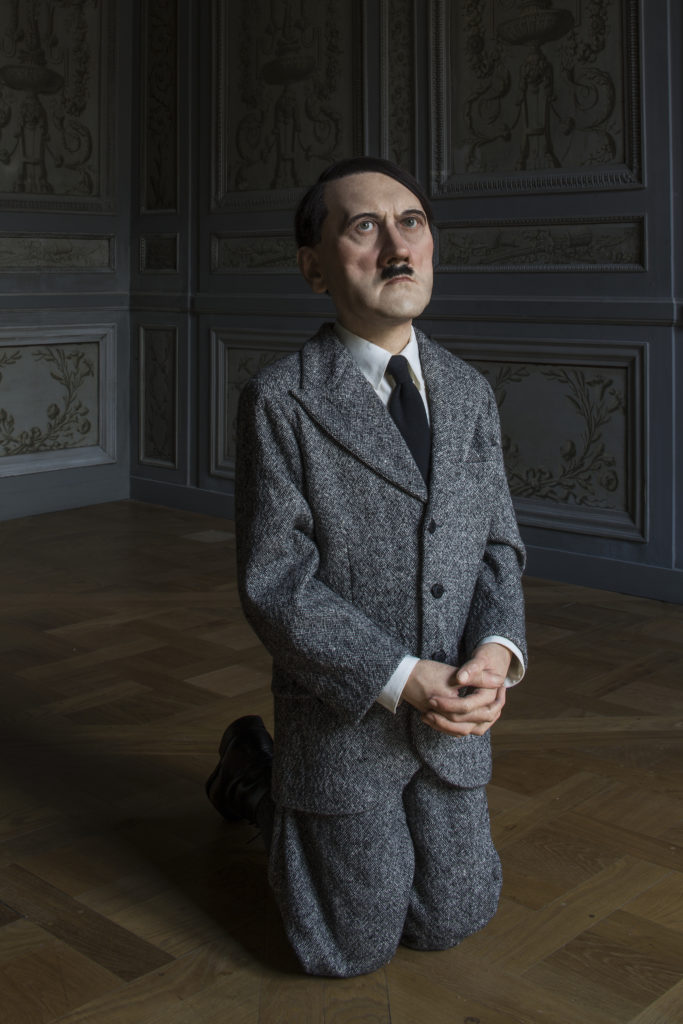 Maurizio: The best artworks are those that flip perspective, the ones that when you see them you know that you will never be the same as before. Good art is art that isn't afraid of being mischievous. What makes a work of art is extremely simple: it makes the familiar feel unfamiliar. This allows the artist to depict the absurdity of the world around us, expose what was hidden and this can astonish. Surprise is usually mixed with absurdity. As the result is humour!
Wakapedia: You know Maurizio, since you entered our lives, we're not sure whether that's a positive or negative, but things have changed for us and you have opened a fourth dimension. So does that mean you're a successful artwork?
Maurizio: ….
Wakapedia: … finally we got a fucking interview! So, it's a rainy day in Milan, what do you want to do, do you want to go to the cinema?
Maurizio: I've already seen all the movies in the cinema.
Wakapedia: So what do you want to do?
Maurizio: Girls, c'mon, you know what I like!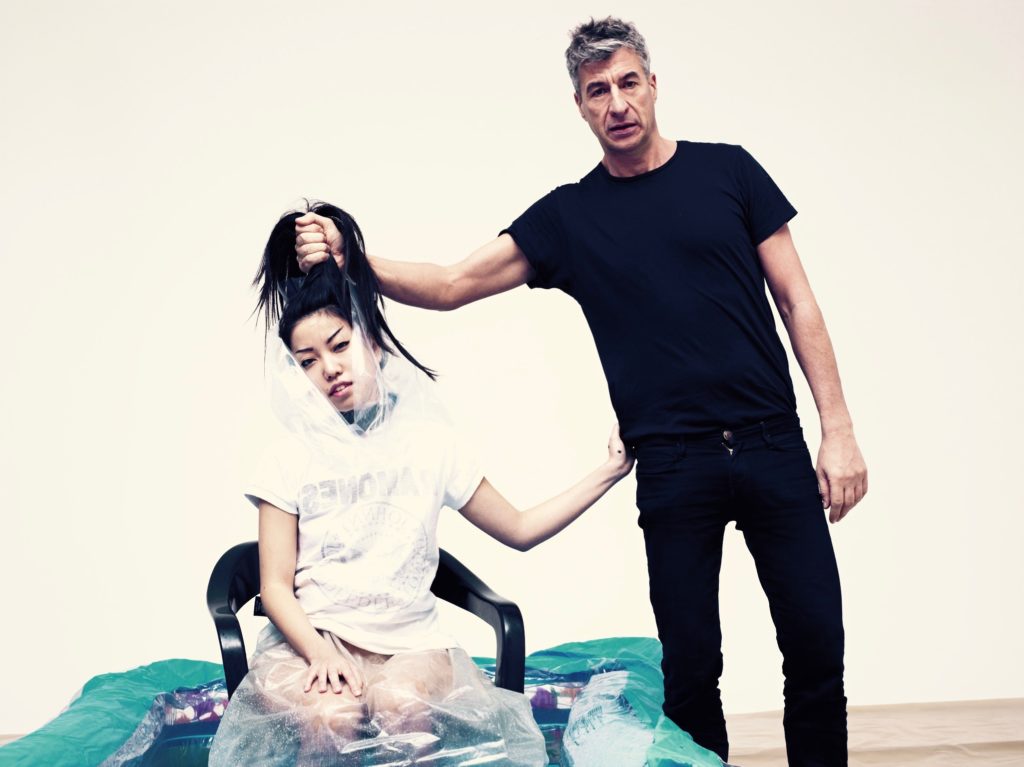 Description & Interview: Sara Waka
Foto: Pierpaolo Ferrari
Zeno Zotti@Maurizio Cattelan's Archive