Photographer Pierpaolo Ferrari was born and raised in Milan, Italy, and it was here in this modern art treasure trove of a city that his interest in taking photographs first took hold. His initial professional footsteps were in the world of advertising, working with the agencies BBDO and Saatchi & Saatchi from 1994 on such brands as Nike, Campari, car manufacturers such as Mercedes Benz, Audi and BMW as well as SONY, Heineken and MTV. In 2006, together with Federico Pope, he brought to life the Le Dicteur, a culture magazine that highlights the photographs of artists the world over.
Today finds Pierpaolo taking the portraits of Hollywood actresses and directors, landing the covers of L'Uomo VOGUE and W Magazine as well as directing the print adverts of Armani and Kenzo, amongst other professional pursuits. In 2010, he created the magazine Toilet Paper Magazine in collaboration with the modern artist Maurizio Cattelan.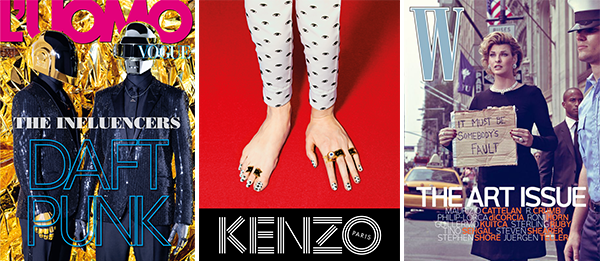 Born and bred in Milan, Italy. The photographer Pier is, in a word, kawaiii! That's Japanese for 'cute', by the way, but fits Pierpaolo perfectly, whether it be his character, his frame or his face. Kawaii Pier. Even his name is cute. He's approaching his prime, a good age, but for me Pier is the sort of person whom you needn't classify by age. I'm sure when he was young he was the same Pier as now, and that Pier-ness will still be there as he gets older. On the big nose stakes, it's good to see that he can hold his own with frequent collaborator Maurizio Cattelan. That common ground – that telepathic bond – I imagine men with big noses share, is no doubt the bedrock of their great working relationship and friendship. (I wanted to suggest that their jointly created magazine Toilet Paper could have – and maybe should have – been named Handkerchief.) For a man famous for taking photos for L'Uomo Vogue and working with world-class actresses and directors, he's lovely and truly down to earth.
Once, while dancing with him in the Paris nightspot Le Baron his nose knocked me in the head. I pointed this out to him, to which he said, straight-faced: "Really, sorry. I should really hide it away somewhere."
When I asked him for an interview, he approved without hesitation.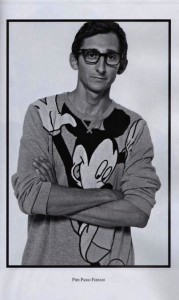 Sara Waka: CIAO! I'm SaraWaka and who might you be?
Pierpaolo: Hello! Im Pier.
Sara Waka: You're very tall.
Pierpaolo: Very true.
Sara Waka: Pier, I imagine you were cute even when you were much smaller. I first came across your name as someone taking the photos for the cover of L'Uomo Vogue, but how best to introduce what you do to all the readers?
Pierpaolo: Hmm… how about as a dolphin trainer? Yup, go for that. I am a professional dolphin trainer.
Sara Waka: Okay, I can see that! So a dolphin trainer rather than a fashion photographer…
Pierpaolo: Well, I'm not just fashion.
Sara Waka: Well, in terms of fashion, you've got the covers of L'Uomo Vogue and W Magazine, and also the campaigns for Armani and Kenzo. Other than that?
Pierpaolo: Well, together with Maurizio Cattelan, whom I believe you know well, I take all the photos for Toilet Paper Magazine. That's the magazine I started with Maurizio. I also take portraits of artists, musicians, actos and directors.
Sara Waka: That's true – I saw the photo of Milla Jovovich. Within all of that, is there anyone you think: wow, it was great to have worked with them?
Pierpaolo: Wim Wenders was great. Paolo Sorrentino was fun too, Tilda Swinton left a deep impression also. Maurizio Cattelan goes without saying – and also, of course, Sara Waka.
Sara Waka: You're too kind.
Pierpaolo: No, no, you're always too kind to me, especially during the shoots for Le Dictateur No. 4!
Sara Waka: Oh yes! The best photoshoot ever, where I narrowly escaped suffocating! Changing the subject: how did Toilet Paper Magazine come about?
Pierpaolo: It was an idea that came up between me and Maurizio. We have worked together a lot and receive many requests for work and one day we just thought: "We do so much work for other people, how about we do our own magazine?" That's more or less how it started.
Sara Waka: Hmm. And how did you decide the direction of the magazine between fashion or art?
Pierpaolo: We didn't choose either direction! We have a deep interest in taking photos of many different subject matter. Different art forms, fashion, design, and those things mixed together can sometimes form a certain type of art, not always though. In the end, it may not just be one photos, it could be the interior, the item itself. Sometimes it's the background.
Sara Waka: Interesting. Springing from the word 'background', in your various travels around the world, what has left the deepest impression?
Pierpaolo: Tokyo!!! I love Tokyo. I stayed 2 weeks at the Four Seasons and it was incredible!
Sara Waka: I bet. Totally Lost in Translation, right?
[At this point Pier's assistant, Alberto Zanetti, interrupts with a plan of overcoming the oppressive heat of the Milan summer via an inflatable paddling pool on the terrace. A discussion on where to buy this item ensues. 30 mins later, we continue the interview.]
Sara Waka: What food do you like?
Pierpaolo: Pancakes with strawberries, drowned in maple syrup.
Sara Waka: So KAWAII♥! And that's a wrap! My interviews end with a kiss – where will you kiss me?
Pierpaolo: Mwa! [at the end, Peter Pan stole a kiss… slightly different from what I expected..]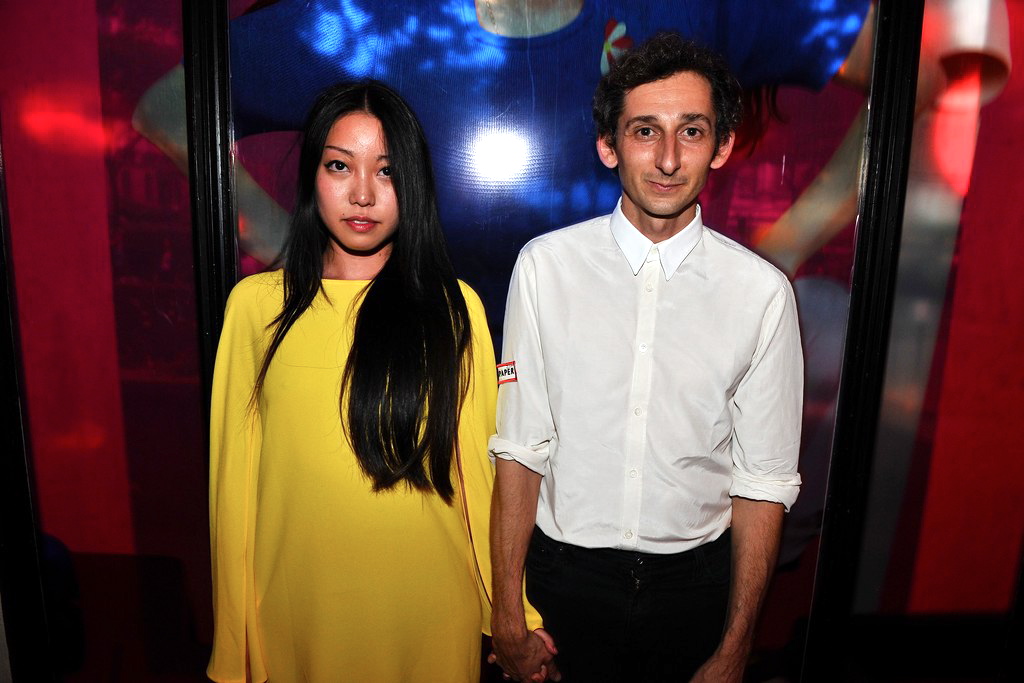 Description & Interview: Sara Waka
Edited by:BJ Fox