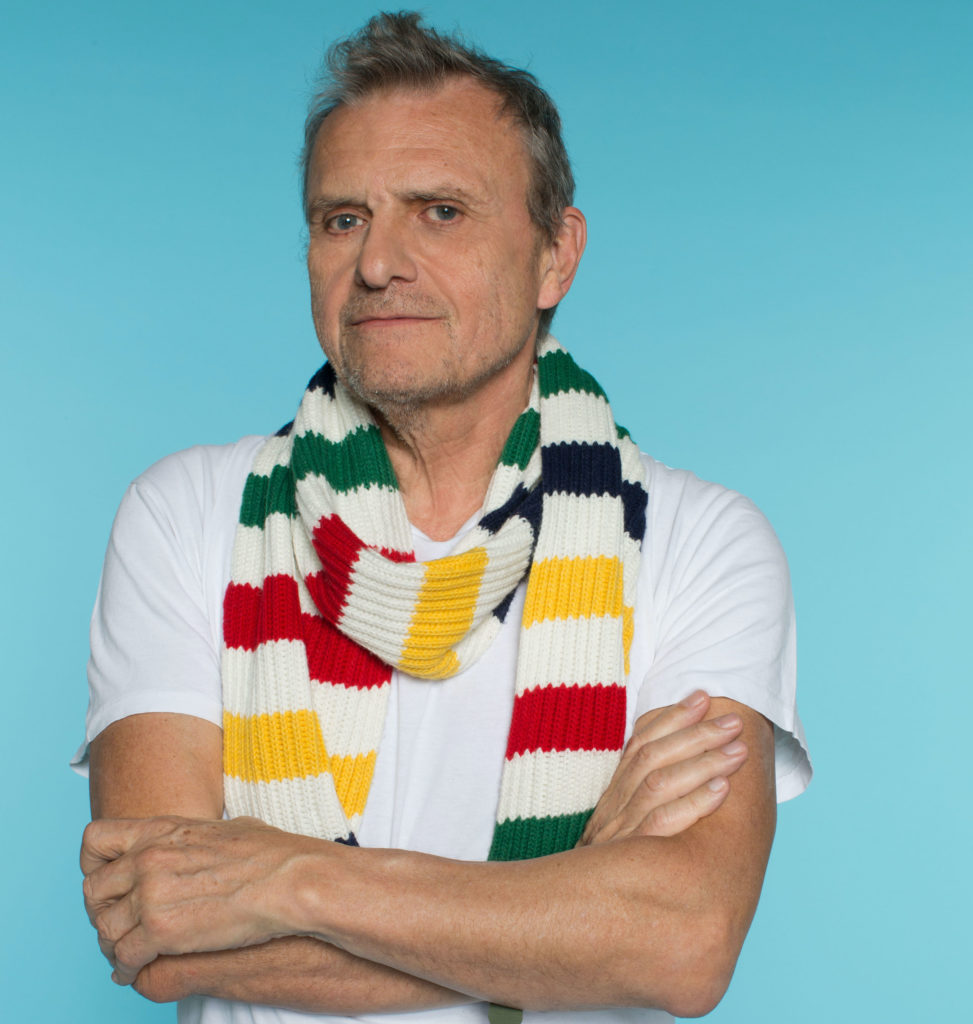 Jean-Charles de Castelbajac is a prominent figure in both the fashion and art worlds. His unmistakable style is based on four pillars: art, poetry, creativity, and youth. He was proclaimed the "King of Kitsch" at Paris Fashion Week in 2010 for his Raika collection (today valued at more than €20 million, ed.). He has dressed international stars (Madonna, Beyoncé, Katy Perry, Lady Gaga) and great artists (Andy Warhol, Robert Mapplethorpe, Keith Haring, Ettore Sottsass, Oliviero Toscani). Even Pope John Paul II wore his masterpieces (in 1997, Castelbajac created a collection of liturgical clothes for World Youth Day in Paris, ed.).
Born in Casablanca, Morocco, in 1949 to a well-to-do family (his title is "Marchese de Castelbajac," ed.). Castelbajac's private life is not particularly well-known but we do know that 1967 was a significant turning point. It was then that Castelbajac met the Dada artist and writer Raul Hausmann (1886 – 1971) and was introduced by him to the art world. The following year (1968, the legendary year of revolt, ed.), he created his first fashion collection that included a jacket made from his boarding school blanket that was a success.
Castelbajac's fame grew from then on. In 1977, he opened his first boutique in Tokyo. His iconic collections of the 1980s — including painting-dresses painted by celebrated artists like Robert Combas, Loulou Picasso and graffiti-dresses inspired by Basquiat — bridged contemporary art and fashion. Continued success in the 1990s and 2000s led Castelbajac to undertake amusing and original collaborations with numerous brands including Le Coq Sportif, Iceberg, Vilebrequin, L'Occitane, Rossignol, and Petit Bateau. Castelbajac's creations can be found in great museums like the Palais Galliera, City of Paris Fashion Museum, and the Victoria & Albert Museum in London.
In October of 2018, Castelbajac became artistic director of United Colors of Benetton, where he employs his signature Pop art approach to modernize the brand, forecast trends, and inject a sense of fun.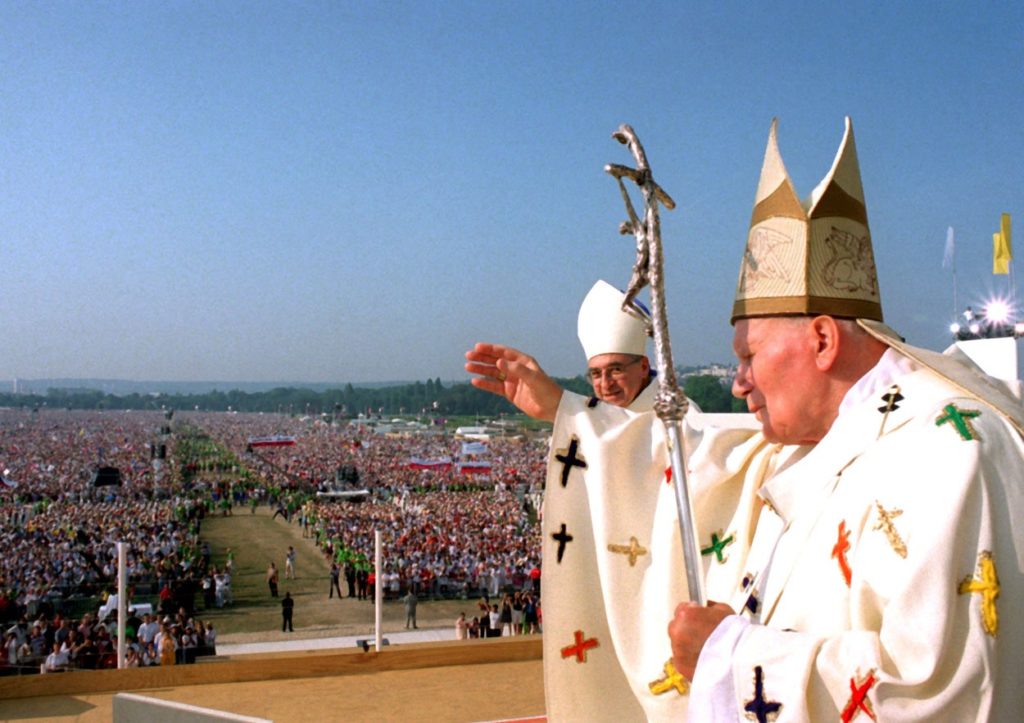 Wakapedia's Jean-Charles de Castelbajac
What can we say? Castelbajac is our idol! His use of primary colours and exuberant style are valuable sources of inspiration, especially for our art director Giulia Bison (who, for the record, sent him her resume to apply for an internship back in 2010, ed.). In fact, everyone on our team has taken his playful and spontaneous approach to artistic production to heart. Basically, Castelbajac is our creative Buddha-Krishna whom we venerate along with the other great patron saints of Wakapedia. Castelbajac certainly performs miracles like a saint. In fact, he is an all-round artist, who works not only in the world of fashion but also in architecture and communication, so his miracles touch many different spheres.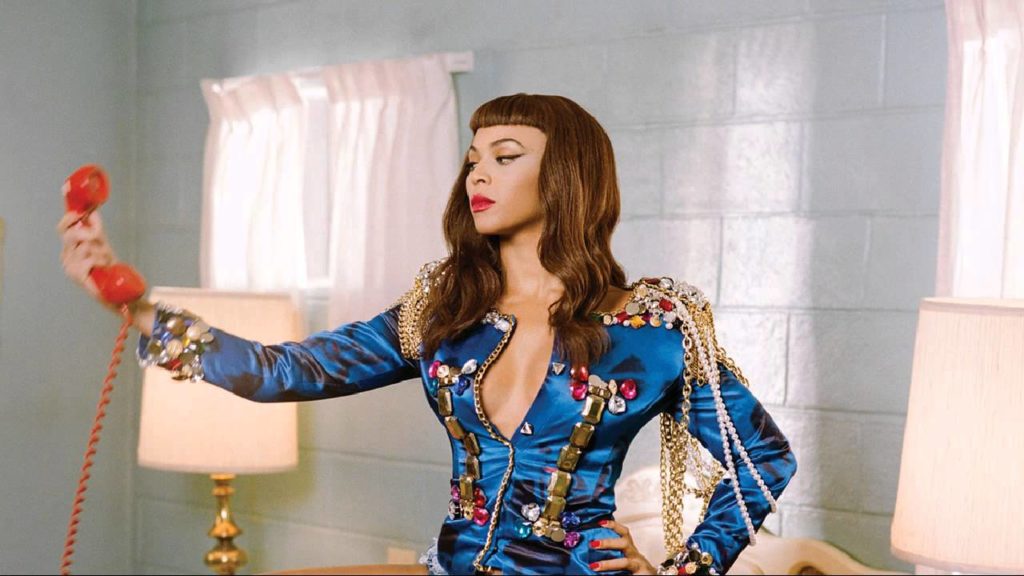 We first met Castelbajac at the end of 2015, the year he waved his magic wand and splashed a large and colourful mural onto the facade of Paris' Orly airport. More recently, at Milan Fashion Week, he spoke to us enthusiastically about his role at the reins of Benetton. His latest FW2020 collection, entitled "Blended Future," was presented in February with an unprecedented multi-faceted event that went well beyond fashion to include performances, skaters, and music. The designer's creativity flows from street style to social media; it reaches the customers via the store windows until it finally arrives at the product.
In conversation with the renowned designer, we discovered an uncensored, fascinating and noble man (in fact and also in spirit, ed.). It's impossible not to fall in love with him (which is also true of his handsome heirs Louis-Marie e Guillaume de Castelbajac, ed.).
In contrast to other stars in the fashion constellation, Castelbajac was able to safeguard his inner child. We love how his spontaneous and intuitive approach encourages young creatives to believe in themselves and embrace experimentation. When Castelbajac added Sara Waka on Instagram, it was pure euphoria. Without further ado, we present our interview full of love and creativity!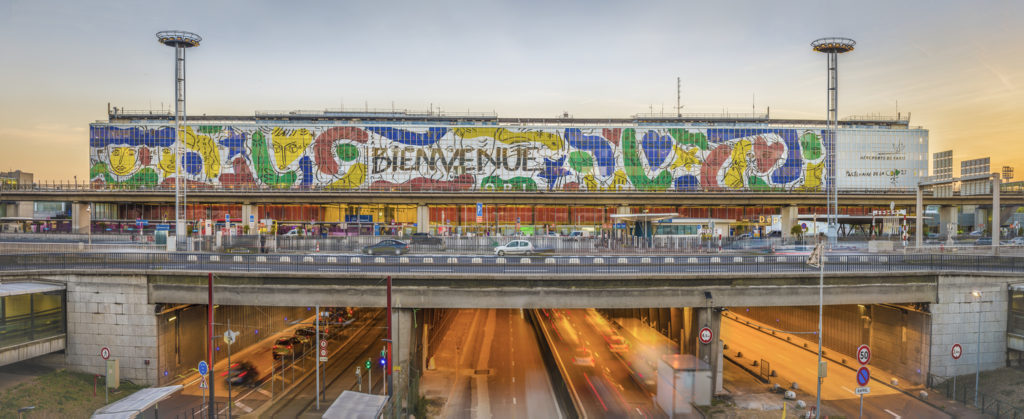 Wakapedia: Hello Jean-Charles — or better yet Saint, o glorious Saint, Jean-Charles — we are so happy to meet you! Would you like to do the interview in Italian, French, English, or Japanese?
JCC: Let's do a mix of cultures, which I know we all like!
Wakapedia: Ok, excellent. First of all, congratulations on this your third collection for Benetton, we adore it! Why did you call it "Blended"?
JCC: Because today, we are more than "United," we are "Blended." We are gradations of colours that blend together uniquely. For this reason, I want to make clothing for people who live in a world without borders, without walls.
Wakapedia: How are you finding your role as artistic director of Benetton?
JCC: I have always felt totally at ease at this Maison and have found the right cruising speed. At the moment, I am focused on how the product reaches our clients, the people on the street. I want to explore all 360 degrees of contemporary life — from the performances during the runway shows and the design of the shop windows to our communication on social networks.
Wakapedia: We really love everything you do, you're so talented! (Laughter) What is the difference between the JCC style and that of Benetton?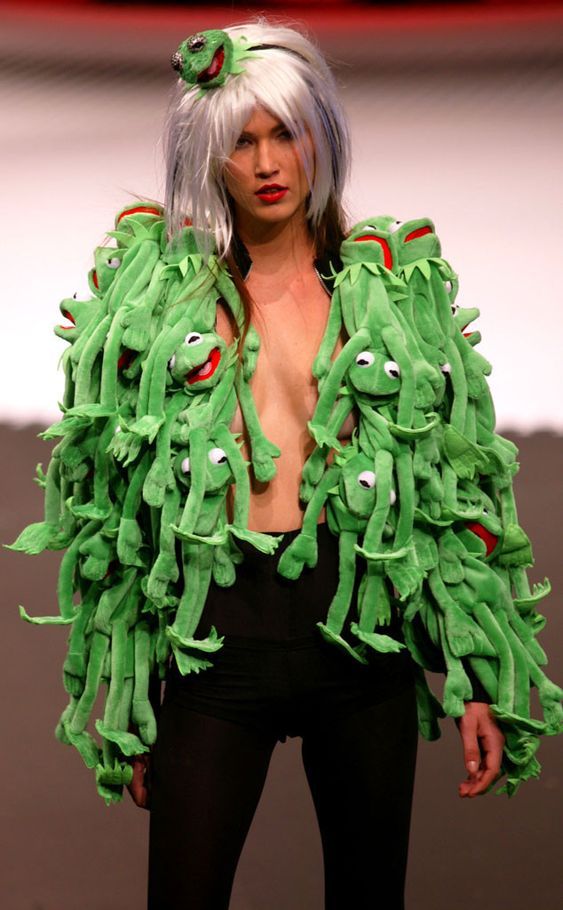 JCC: My JCC collections were very experimental and were the fruit of a lot of research — research on fabrics, materials, aesthetics — and were created for a limited number of people. My work at Benetton is the application of this research for the benefit of the general public. It's a real revolution, or better yet, a "dem-olution." I created this neologism by joining the concepts democratic and revolution. Quality materials, functionality, price, and sense of fun are all elements of this paradigm shift. The Benetton Fall Winter 2020 collection is really Fashion for Everybody because it embodies a nomadic style, full of hybridization and freedom, that you can comfortably live in and share with other people.
Wakapedia: Genius ideas, Jean-Charles! But we do miss your Castelbajac runway shows. Do you miss them?
JCC: No, I don't miss them at all because my focus is on modernity at Benetton. I don't think there is space for that idea of fashion anymore. Anyway, I did them for 50 years and am no longer interested. I'm now interested in using my profession to have a social impact, which means creating cool, well-made clothes at a price that makes them accessible to everyone.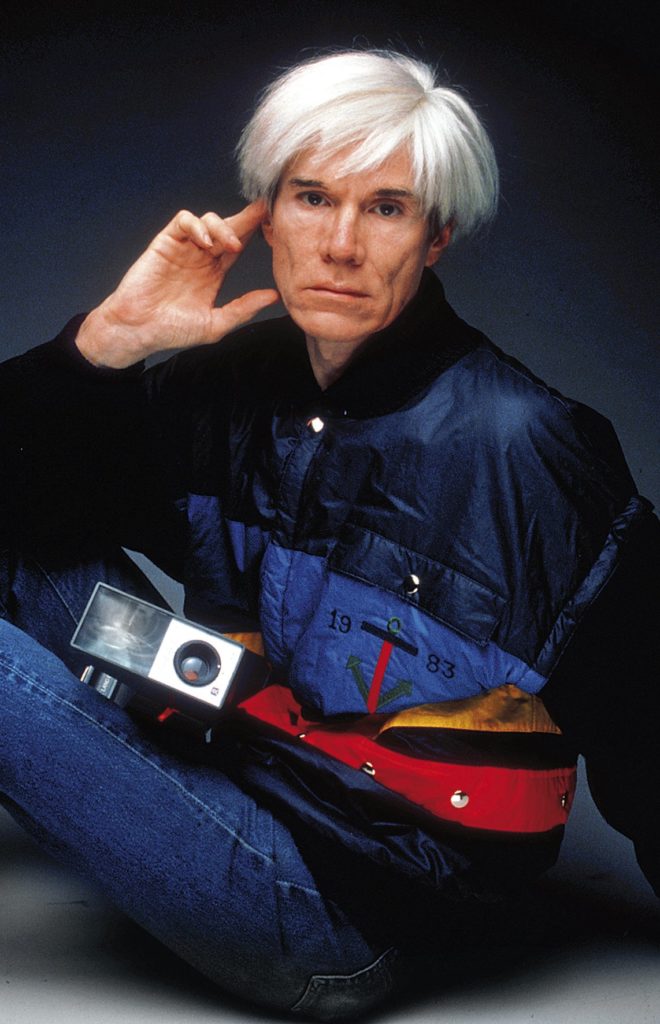 Wakapedia: So, generally speaking, where do you draw inspiration for your limitless creativity? Tell us your secrets!
JCC: Well… it comes from the invisible, from history, and from the memory of past centuries. I have had this inclination since I was a child. When I was little I loved to visit old castles and imagine that they were haunted or run in the fields daydreaming about the great battles of old. From then on, I learned how to daydream about everything.
Wakapedia: What a poet! We also daydream a lot, but we're not quite at your level. (Laughter)
JCC: No need to hurry, you're still young.
Wakapedia: Youthful, yes, but not that young!
JCC: I think I possess a unique artistic sensibility. To me, everything is on the same horizontal plane, all the past epochs are on the same level, there is no distance between the centuries, the seasons, or between the living and the dead. I only experience flows of feelings that I channel as if I were a medium! (Laughter)
Wakapedia: What does fashion mean to you?
JCC: There is no continuity between what I made 30 years ago and what I do today. I think I work more with style than I do with fashion. Fashion is fragmented and ephemeral, made up of rhythmic cycles and interruptions. I like fashion, but I don't feel totally aligned with its laws. I have social, cultural, ethical, and ethnic references that go above and beyond the trends of the moment. I draw constant inspiration from the "visual accident," like someone wearing a yellow dress in front of a red fire truck in the city. I'm inspired by contradiction, imperfection. I don't like perfect things, I find them totally boring!
Wakapedia: Boring things are definitely boring. Sorry for the rather dull response! When you were young, what toys did you like? We imagine you invented something new every day.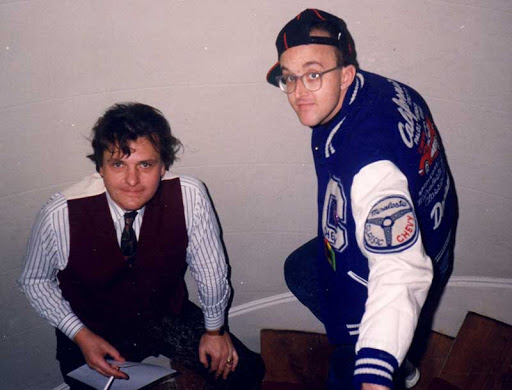 JCC: Yes, exactly! I never had toys because I lived at boarding school. So, from a tender age, I had to invent an imaginary world for myself and make toys from pieces of wood and found objects.
Wakapedia: In your Pop art collections, you frequently used Disney images. Are you also inspired by Japanese anime and manga?
JCC: Not so much, to be honest. I do love Japanese culture and am inspired by Kurosawa's aesthetic (Akira Kurosawa, 1910 —1998, award-winning Japanese director, producer, and scenographer, ed.) and by another Japanese author, Edogawa Ranpo (pseudonym of the writer and critic Tarō Hirai, 1894 – 1965, ed.). I really love his short story, "The Human Chair." Japanese sensuality is also a constant source of inspiration.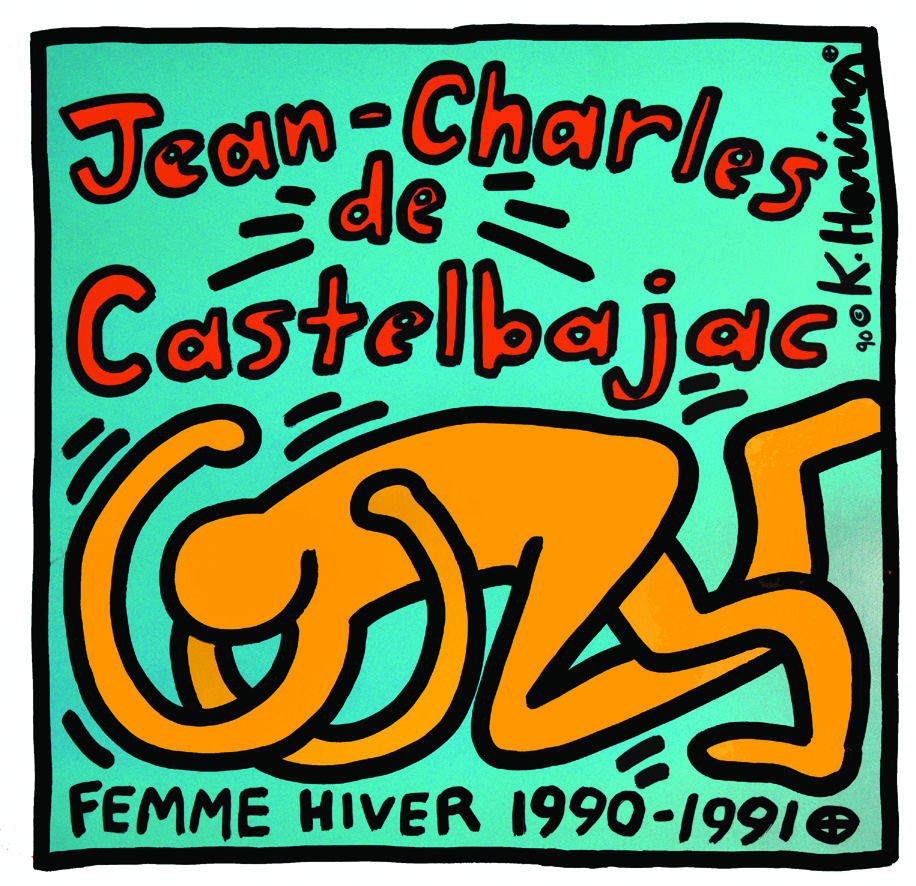 Wakapedia: Do you like Japanese food?
JCC: Oh, yes, I adore it! I particularly like that interesting eggplant dish…de…de… what is it called?
Wakapedia: Dengaku! Eggplant in soy sauce.
JCC: Yes, that's it! I go crazy for that subtle sweet and sour flavour.
Wakapedia: It's so great when someone mentions a Japanese specialty other than sushi! One last question: what message do you have for emerging talent in the fashion industry and young creatives everywhere?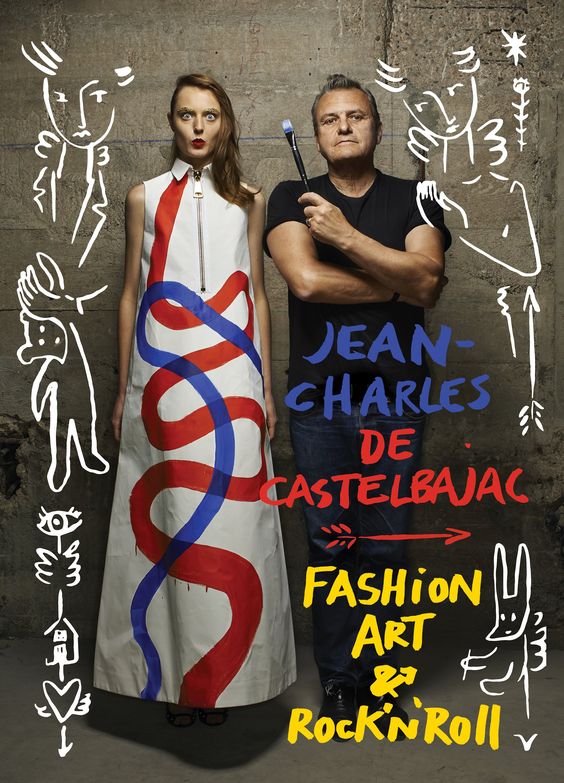 JCC: JUST FOLLOW ME, BECAUSE I AM THE BEST! (Laughter) All joking aside, I would encourage them to read the book I published in 2015 called PHOTO RAINBOW (A limited-edition artist's book, signed by Castelbajac, is a series of colourful and Pop art style photographs and original creations by the artist including clothing, sketches, drawings. Co-edition YellowKorner/TeNeues). The book is not meant to be on display in museums, I made it for use in schools. It contains a wide range of inspirational and strong images to reawaken the creative soul that exists in each one of us, and especially in young people. This generation is used to consuming images on the internet and on social media in a chaotic manner. In this book, I wanted to use the sequences of images to create a kind of musical rhythm.
Wakapedia: Do you think that music and art are deeply linked?
JCC: Of course! Music, art, as well as love and desire, are all vital elements of artistic creation.
Wakapedia: Speaking of creativity, we actually have your book here. Would you please make us a dedication on the first page?
With a few quick lines of black marker, Castelbajac draws a portrait of Sara with an arrow beside it (yumi in Japanese). Then, using blue, he adds some small arcs that look like the wave patterns found on the traditional Japenese garment the yukata.
Wakapedia: Wow, what a fantastic personalized dedication – a portrait! Sara is very moved.
JCC: As always, I trust my intuition!
(Laughter)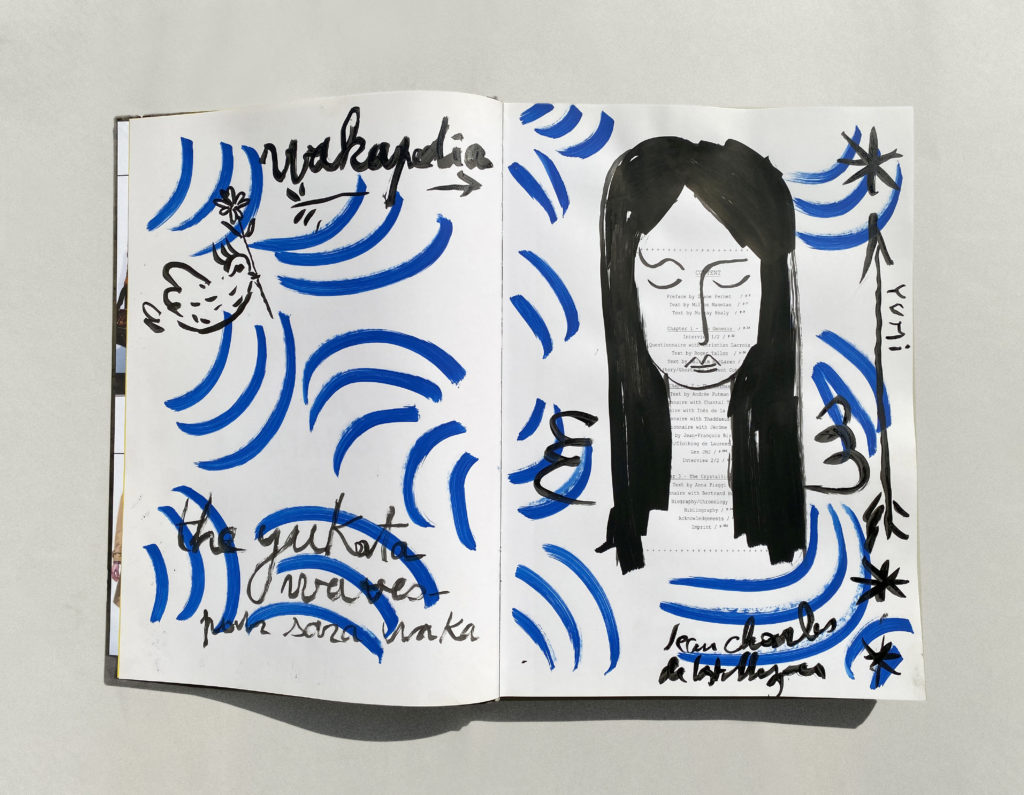 Description & Interview: Sara Waka
Edited by: Kassandra Frua De Angeli