Two dream days aboard MSC Bellissima. Chronicle of an unforgettable weekend courtesy of MSC!
At the beginning of March the Wakapedia team arrived in Southampton, the most important port city in the South of England.
Let's be honest, the idea of ​​spending the weekend in an English seaside resort in winter did not make us shudder with joy, in addition we had the misconception that cruises were exclusively for elderly people. However thanks to this unique experience we have really changed our minds – we are thrilled to have lived a DREAM weekend on board Bellissima, the latest addition to the MSC Cruises fleet.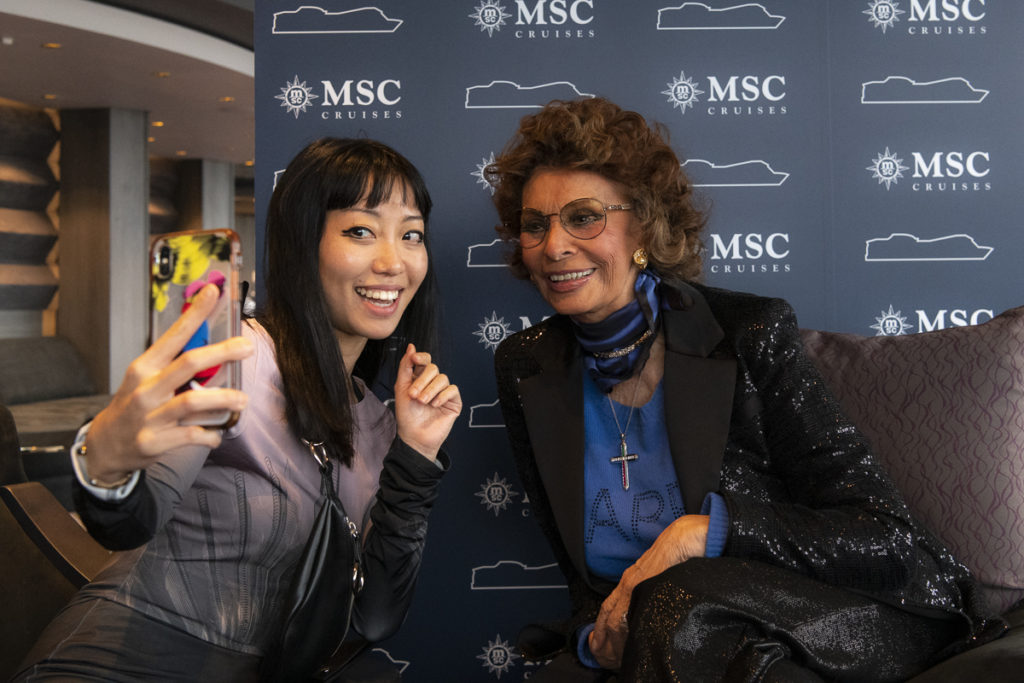 On March 2nd, MSC Bellissima hosted an inauguration ceremony worthy of Hollywood, complete with a blue carpet (and not red!), a super chic vibe and the embodiment of "Made in Italy": the elegantly timeless Sophia Loren. The big gala evening was also attended by many other celebrities, VIPs, influencers and even the famous tenor Andrea Bocelli who performed in the company of his son Matteo (Editor's note – great discovery!). Attention! MSC is not only luxurious and fun, but also mindful and charitable. Every year the MSC Cruises invests in numerous charity missions to promote social and environmental improvement in Italian communities. This spirit of solidarity can also be found in the on-board staff: extremely affable, helpful and cohesive… a large Italian family!
But let's get back to our evening… After having enchanted our eyes and ears, MSC thought to satisfy even our taste buds, thanks to refined and tasty dishes created by the two Michelin star chef Raymond Blanc, a new official partner of MSC cruises. Blanc, a true star of the British culinary scene, prepared an incredible menu for this inaugural dinner, which is only the beginning of his partnership with MSC Cruises.
After dinner, the evening continued in the nightclub of the ship, a huge space that during the day is used as a basketball or volleyball court and in the evening turns into a dance floor frequented by passengers of all ages. We danced and drank as we used to in our twenties, thanks to the open bar that offered us some excellent gin and shots of tequila. At 6 am we told ourselves that it was time to get some sleep and we returned to the cabin. The cabins on MSC Bellissima are cosy and extremely functional, with a modern design that pays attention to the smallest details. Plus, we had a beautiful little balcony, perfect for reading or having a coffee in the sun overlooking the ocean. Also, another nice discovery in the cabin: Zoe, our virtual assistant on board to which we could ask for any information – from the week's weather to the planned activities on board – and she understands seven languages. The magic of technology!
After a night of rest in our beautiful bed (very comfortable and enveloping like a cloud!), the next day we decided to explore the world outside of our cabin. Already the previous evening, among lights, shows and music, we had realised the magnificence and the imposing character of MSC Bellissima. It is important to know that the "little girl" of the MSC family is everything but small: it has a 4D cinema, a theatre where you can admire a spectacular performance by the Cirque du Soleil, a bowling alley, a huge floating waterpark, no less than 12 restaurant areas and over 20 bars and lounges! In short, you are really spoilt for choice to have fun and binge and you can choose from many different menus, including Butcher's Cut, a specialty restaurant that puts meat front and center, or the famous patisserie Jean-Philippe Maury's Chocolate & Café, a true paradise for chocolate and dessert lovers (like us! ed).
MSC Bellissima is equipped with the largest LED screen at sea, 80 metres long; this maxi-screen dominates the splendid central promenade like a dome, designed to become the hub of social life on the ship. As a good Milanese, it made us think of a floating Galleria Vittorio Emanuele!
The choice of activities and pastimes on board is also enormous: from those specifically offered to families who, fortunately, have a dedicated area (far from us! Ed), to the well-being and relaxation centre to which we headed without hesitation! We let ourselves be pampered with a relaxing Balinese massage, provided in a very Zen environment. After the inevitable nap, we ventured into the casino area; an immense space with all kinds of gambling machines. We had a very specific aim: to become billionaires and enable us to spend the rest of our lives on an MSC ship. Needless to say, we failed, but we still had a great time.
Between one thing and another (it's really hard to get bored on an MSC ship! Ed), our weekend flew by and unfortunately our time aboard Bellissima came to an end.
On March 4th, MSC Bellissima started from Southampton to Genoa, a city that will be its home-port for its first season in the western Mediterranean. And while we see its imposing and at the same time refined silhouette dancing elegantly on the waves towards the horizon (After only two days we have become as honeyed as sixteen year olds in love! Ed), we try to console ourselves by thinking that we can always revisit MSC Bellissima. Who knows, maybe we'll be back on board next spring for MSC Bellissima's first trip to Japan?!