Handmade, beautiful, comfortable, and eco-friendly leather shoes.
The unique know-how of Japanese master shoe makers of the HAKIMONO union.
While Italy is one of the most famous countries in the world for leather footwear production, the Japanese excel in this sector in Asia.
In 2017, a union called "HAKIMONO" (which literally means "that walks with your feet") was founded with the support of METI, the Japanese Minister of the Economy, Business and Industry. This consortium unites brands specialised in Japanese shoemaking know-how and promotes them on an international scale.
In the Land of the Rising Sun, leather-working dates back to the age of the samurai. Techniques first used to create fine sheaths and covers for swords and armour have been modernised to keep in synch with the passing of time. Today, in addition to high quality materials and design innovation, the diverse brands of HAKIMONO distinguish themselves by their particular attention to environmental issues as they seek to produce sustainably.
In the following article, we present four Japanese brands that have each found their own way to reduce their environmental impact via ethical and eco-friendly production. Their collections are available for purchase online until February 2021 on Joor, a well-know wholesale b2b platform and on Man/Woman, an online multi-brand showroom.
NIBE Leather by H. Katsukawa: the unique beauty of natural leather
NIBE favours natural forms and materials and simple designs that are perfect for every season. Instead of using artificial dyes, the natural colour of the leather comes through. This hallmark aesthetic brings to mind the different shades and imperfections of human skin. The designer of NIBE, H.Katsukawa launched his first collection in Japan in 2007 after having studied in England. He was the first to develop this original approach to making shoes and placing value on natural, non-uniform textures. NIBE leather shoes are created in the image and likeness of human beings; each pair has their own distinctive traits and unique character. Katsukawa champions uniqueness in contrast to the standardisation and globalisation of modern society. For him, every person is unique and exceptional and deserves shoes made from leather that is, to the touch and to the eye, equally unique and original. The brand also pays particular attention to ethical and environmental concerns by avoiding industrial production techniques or the use of polluting chemical dyes. In 2010, the brand opened a store called "The Shoe of Life" in the Meguro district of Tokyo. They offer post-sale service and repair for the leather shoes they sell. This is a brand that effectively marries the principals of uniqueness, durability, and sustainability. Their products are exported world-wide and have been presented at Pitti Uomo seven times.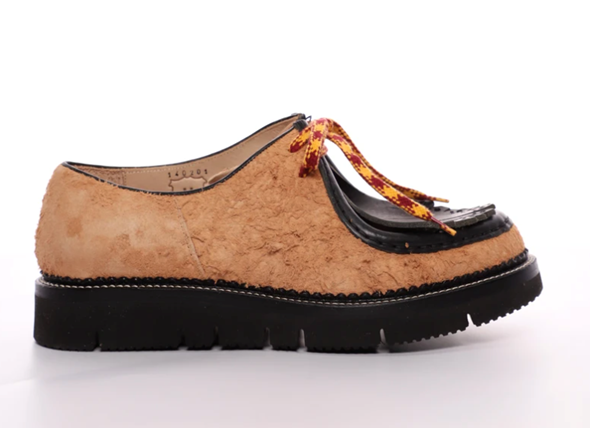 To learn more: http://www.nibe-leather.com/en/profile/
Products for sale on JOOR: https://www.jooraccess.com/hkatsukawa
Interview with H.Katsukawa:  https://www.youtube.com/watch?v=hBYe-Cl8jrE
Studio Imago by Hiroshi Kida: repairable leather shoes and creative recycling
The Japanese company Studio Imago created two different brands. The first "Hiroshi Kida",bears the name of its designer and founder. All the shoes are made by hand using the traditional manufacturing technique called "Blake", which was first developed in the 19th century in the United States and is still widely used in the Italian luxury footwear sector. Hiroshi Kida chose this production method not only because it allows for exclusive finishes and gives the shoes a rounded, casual, and timeless shape but also because it makes the shoes easy to repair. Every handmade component such as the upper, the insole, and the sole are sewn at the same time. As a result, damage to the shoe, or any of its parts, can be repaired many times. This brand goes against the mass production of the last century and the fast fashion of the last ten years by creating long-lasting products using ancient techniques and environmentally-friendly vegetable dyes. Hirosji Kida is convinced: "New demand will be satisfied in the old way".
Studio Imago's second brand, called + SOLE (ADDITIONAL SOLE), is equally interesting and environmentally sustainable. Their principle is not only to repair shoes, but to do it in an original way via "up-cycling" or creative recycling. + SOLE (ADDITIONAL SOLE) breathes life into old, worn-out shoes by adding a new, quality sole. Studio Imago's the two different approaches reflect the recent developments in the fashion industry in which mass production is gradually abandoned in favour of traditional savoir-faire, green materials, and better quality products that are more durable and create less pollution.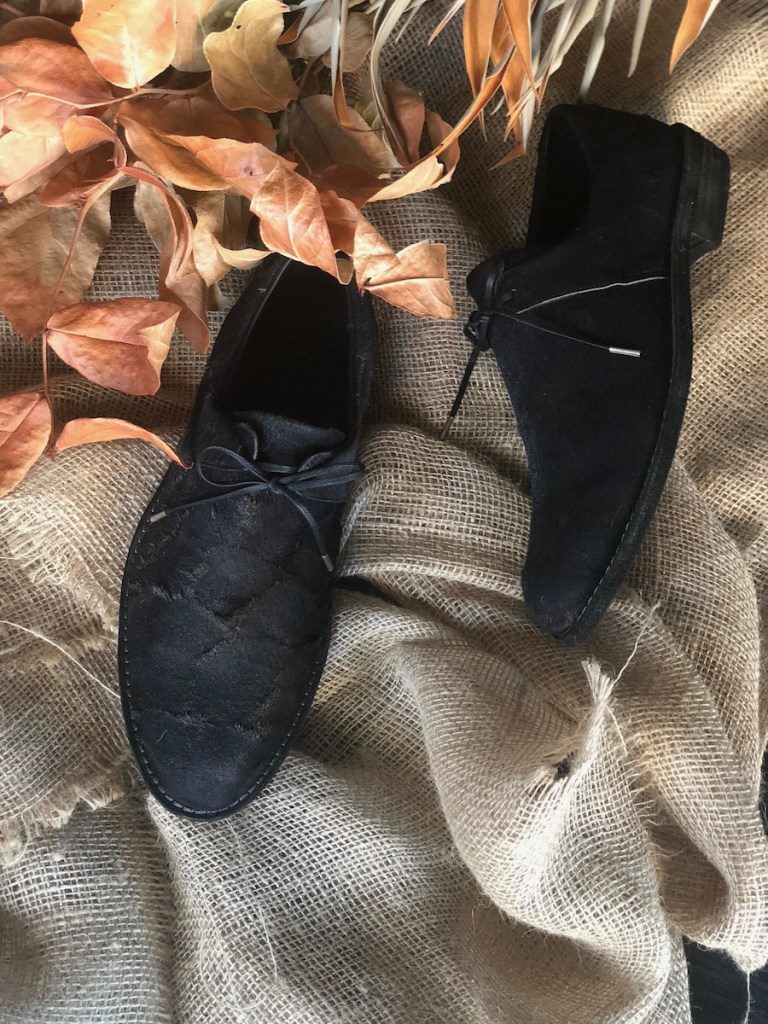 To learn more: https://www.instagram.com/studioimagohiroshikida/
Products for sale on JOOR: https://www.jooraccess.com/hiroshikida
Interview with Hiroshi Kida: https://www.youtube.com/watch?v=ZlFzYiy-_4U
Numero Uno by Ittestu Ohyama: unconventional leather for unique, sustainable shoes
The Japanese footwear company Numero Uno distinguishes itself by the use of atypical leathers. The brand has, for example, even created a collection of leather shoes made of the skin of… the blowfish (fugu in Japanese)! This line reflects the brand's original character and its focus on sustainability. The choice to use fugu leather, is not only a question of style. The brand's designer, Ittestu Ohyama, prefers to use scrap materials that would ordinarily be wasted or underused. Avoiding the use of non-renewable natural resources reduces the company's environmental footprint.
In line with these considerations, Numero Uno has developed various models using non-conventional leather. Recently, they designed a line using deerskin.
Over the last several decades, the drastic reduction in deer leather and meat consumption provoked an uncontrolled proliferation of wild deer in Japan. This negatively impacted other species and cost the State about 50 million euros in 2018 alone. A recent public awareness campaign inspired numerous citizens to hunt and eat deer again, but its skin is still under-used in the fashion industry because its size is too small to produce shoes or clothing.
To help solve this problem— and to continue to choose materials that are plentiful and under-used— Ittestu Ohyama decided to design a new collection adapted to the specific characteristics of deer skin. To do so, he collaborated with one of the most famous deerskin tanners in Nara prefecture. He is also working on a new line of indigo-dyed deerskin. The resulting colour is not only aesthetically pleasing but the dye also makes the skin more robust, thereby addressing one of the material's biggest drawbacks: its fragility. In conclusion, Ittestu Ohyama aims to establish a balance between ecology and fashion by using natural, sustainable materials to make on-trend, well-finished products.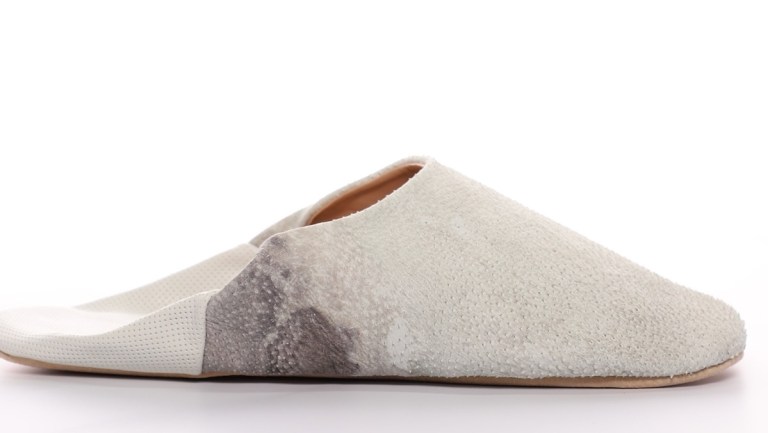 To learn more: https://www.instagram.com/numero_uno_io/
Products for sale on JOOR: https://www.jooraccess.com/numerouno
Interview with Ittestu Ohyama: https://www.youtube.com/watch?v=9NLOysMEUAA
Kyoko Sasage: shoes made of leather and 100% biodegradable Washi paper
Washi is a celebrated type of traditional handmade Japanese paper. It is stronger and thinner than European paper because the fibres used to make it are longer. Included in the list of UNESCO Intangible Cultural Heritage in 2014, this handmade paper has a good texture, and is robust and translucent. It is used in diverse applications including the traditional Japanese art of origami, shodō calligraphy, ukiyo-e  prints, and clothing. For fashion companies intent on reducing their environmental impact, Washi paper is an excellent substitute for synthetic fibres that pollute the environment. Washi fibres are readily found in nature and the resulting paper is strong, breathable, and even antibacterial.
The designer of the self-titled brand, Kyoko Sasage, was trained in shoemaking in Italy before choosing to return to Japan to create his own company. His work is based on the use of Washi paper in combination with traditional Japanese artisanal leather craftsmanship. Since the material is breathable and antibacterial, it is used to line the interior of the shoes. This makes the shoes very comfortable, especially if worn without socks. The brand's aesthetic — which favours delicate organic motifs like flowers, plants, and fruits — is a tribute to nature and the different seasons.
Last but not least, Kyoko Sasage's 100% natural Washi and leather shoes are completely biodegradable.  Once thrown away, they return to the earth without polluting it.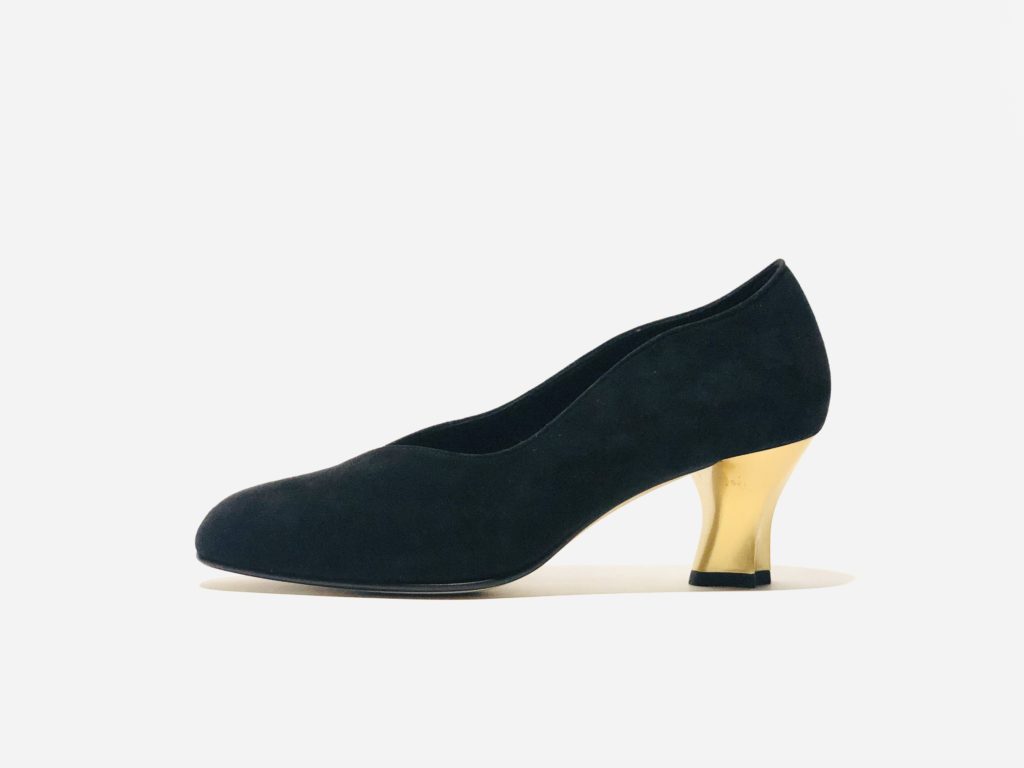 To learn more: http://belpasso-acs.info/
Products for sale on JOOR: https://www.jooraccess.com/kyokosasage
Interview with Kyoko Sasage: https://www.youtube.com/watch?v=guREJOFR9KM