Born in Milan in 1950, Barnaba Fornasetti is the son of Piero Fornasetti, founder of the eponymous Made in Italy design brand – one of the leading Italian high craftsmanship companies – famous throughout the world for its unmistakable graphics.
It was in 1988, following the death of his father, that Barnaba Fornasetti took over the reins of the company. Since then he faithfully carries on his paternal legacy and, with the same pioneering spirit and the same passion, revives his incredible visual language by creating what he himself likes to call "reinvention", that is, objects designed from scratch using mainly themes drawn from the very rich historical archive.
Always respecting the artisan tradition, Barnaba Fornasetti has been starting new collaborations and licenses for several years: ceramic tiles, fabrics, home fragrances, ties, lamps, carpets, parquet and wallpapers, up to the recent capsule collection created with the Japanese brand Comme des Garçons. Its inventiveness and its rigor won it the 2017 MAD Visionaries! Award, the award that celebrates innovation, excellence and creativity in the field of art and design.
Crossing the boundaries of design, Barnaba Fornasetti has curated exhibitions, monographic editions on Fornasetti's history and has collaborated for years with the universe of theatre and opera as well as Mozart's "Don Giovanni".
WAKAPEDIA's Barnaba Fornasetti
For us at Wakapedia Barnaba is the great DJ BARNABA.
Italians know Barnaba especially for the Fornasetti brand, of which he has been the artistic director for over thirty years. But not everyone knows that he is also a very stylish DJ who ignites the dance floor of the most exclusive parties during Milan Design Week. His evenings are a real must and the crème de la crème of design week jostles for an invitation!
White hair and beard, light eyes … Barnaba might seem like a Santa Claus at first sight, but when you look at him more closely, his glacial look rather makes you think of a nobleman with a sophisticated style and a ruthless and haughty character, the perfect antagonist of some magical movie set in England! Barnaba looks like a character who came out of a fairy tale, but in a somewhat mysterious and elusive way, he hides a respectable gentleman, a Milanese of other times; very sweet and friendly. When we went to his house for the shooting, neither we nor the crew of photographers wanted to leave: we were all hypnotized by his dream home (every room a different color, mirrors of all sizes up to the ceiling, carpets with eccentric motifs, books, photos and records as far as the eye can see, a true Ali Baba's cave!), but also fascinated by the kindness and hospitality of Barnaba and his cats who followed him everywhere.
Very elegant, with an extraordinary charm and talent, Baranaba is a man who loves to talk about himself in an honest and informal way. We had the privilege of interviewing him at the Latteria, a famous Milanese restaurant where he has long been a regular. Between a risotto and a coffee, Barnaba shared with us personal memories and exciting revelations about the Fornasetti saga, a story of genius … and madness. A perfect interviewee for Wakapedia!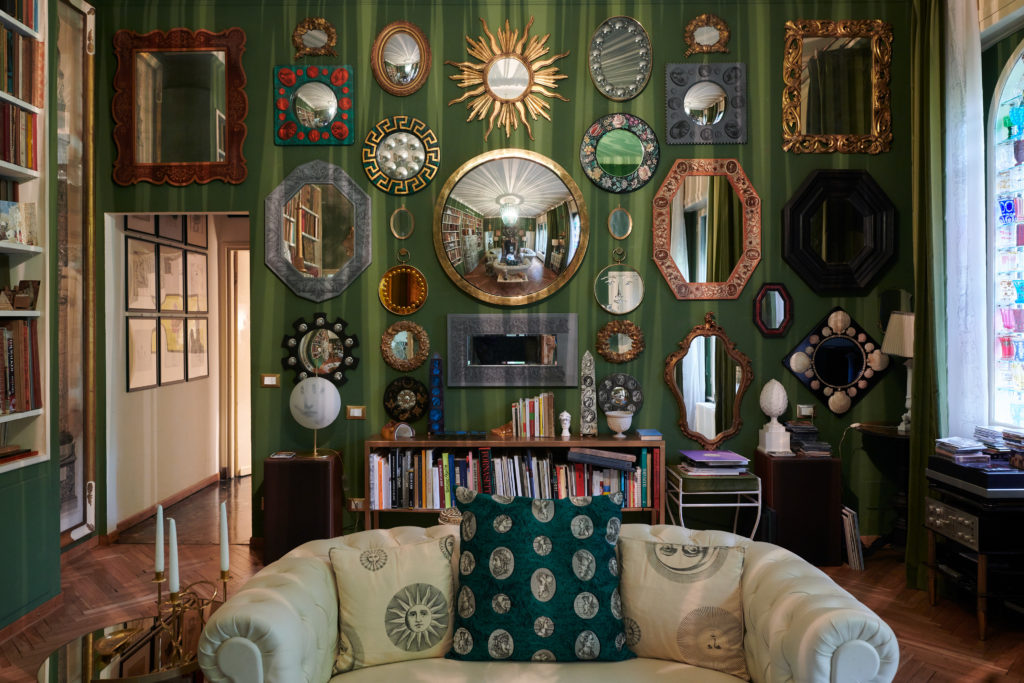 Wakapedia: Hi Barnaba! But do you know who first told us about you? Betony Vernon who was one of the first – and undoubtedly sexist – of Wakapedia interviewees. I didn't know you were married!
Barnaba: Yes, but we didn't have a big wedding, we kept it for ourselves. Imagine that fateful day and we didn't even invite our parents! It was me, her and two witnesses.
Wakapedia: Eh well, an original wedding! Just like you!
Barnaba: Exactly! A bit crazy, like the people around me.
Wakapedia: And you like being among crazy people, right?
Barnaba: Yes yes, better crazy rather than boring!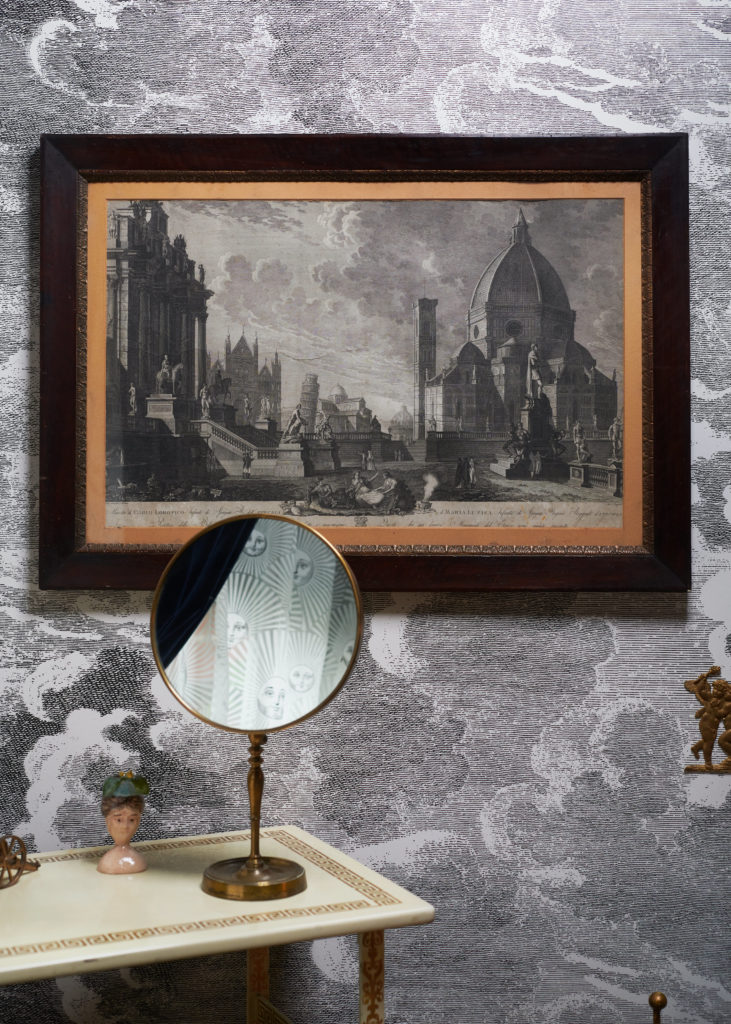 Wakapedia: Love and madness aside, tell us a little about the history of the Fornasetti brand. Your father was a great artist, right?
Barnaba: My father was born an artist, he had creativity in his blood. He was a sculptor, painter, and he loved all the printing techniques: engraving, serigraphy etching … Then one day he bought a printing press and became one of the best printers in Italy in the '30s and '40s.
All the greats of the time came to him – De Chirico, Manzù, Campigli – to print artist's books. My father's curiosity for using new techniques led him to print even on fabric. He created lots of silk scarves with eccentric and very innovative designs for the time. From there he started a collaboration with Gio Ponti that went on until the 1950s.
Wakapedia: The eccentric drawings that you talk about were all your father's original ideas?
Barnaba: Yes, he had an infinite imagination, he left us an immense visual archive.
Wakapedia: He had graduated from the Brera Academy, right?
Barnaba: Yes, he was a member of Brera (a state-run tertiary public academy of fine arts in Milan). One day they expelled him because he was too rebellious, but then they took him back and even gave him a scholarship! And he with that money, instead of putting it aside, getting married and starting a family, he bought a ticket for a merchant ship and left for Africa.
—- Maria, the owner, interrupts us to clear the table, it's time to order the dessert. Given the choice between her homemade tiramisu (apparently, a guarantee of great quality! Ed) and a sbrisolona cake with apples, we were all convinced by the latter. Especially Sara, who didn't even know what the sbrisolona was, but to the words "tart & butter" she said yes without hesitation! —-
Wakpedia: Where were we before the sbrisolona? Ah yes, your father who left for Africa.
Barnaba: He spent some time there, then returned to the academy. He was very pissed off when he discovered that in Brera they had abolished the drawing of nudes. It was the era of fascism and the "official" culture was a mix between Catholic puritanism and totalitarianism. Even my paternal grandfather didn't want to send my mother to Brera, which was considered a place of perdition because there were naked women. Think of the absurd times! (laughter) Even Betony (speaking of Betony Vernon, his ex-wife and famous designer of erotic objects and jewels, ed) had difficulties. Her book ("The boudoir Bible", ed.) had been translated into all languages, except into Italian.
Wakapedia: It is true that in Italy, with the Church, we are always a step backward! (look of desolation) You were talking about your grandfather, was he also an eccentric character like your father Piero?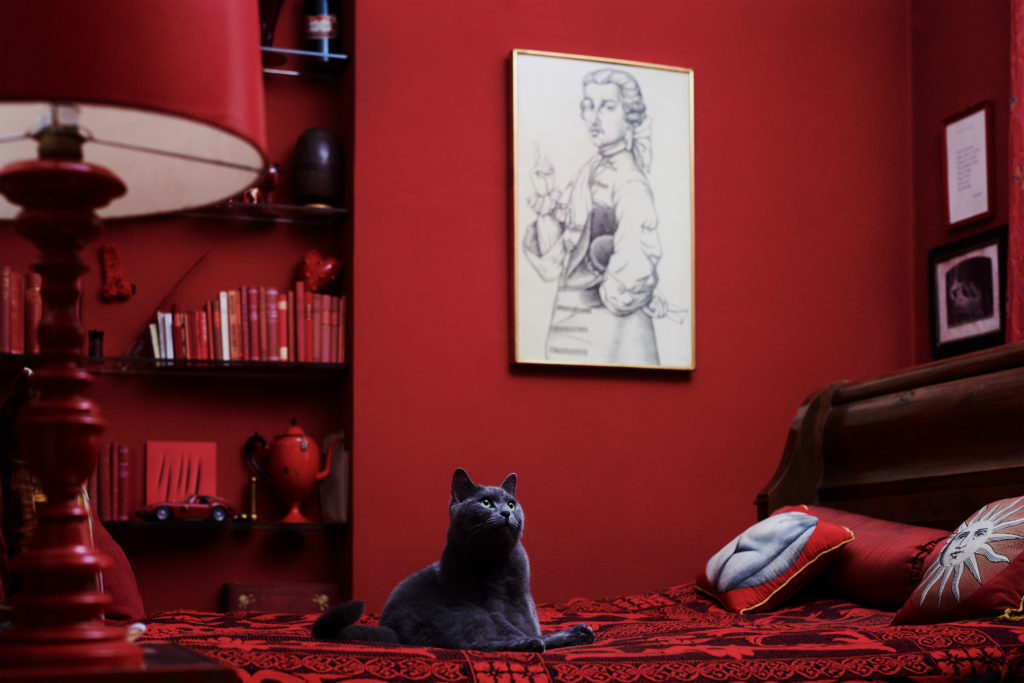 Barnaba: There is not much to say about my maternal grandfather except that he was a great conservative. The paternal grandfather, on the other hand, was a character, a special type. He loved opera and he was baritone, bass, tenor … he did a bit of everything, let's say he adapted! (laughs). He was also an importer of German typewriters, he was one of the first. He was a visionary, a little crazy too.
Wakapedia: Here's another one, there's no lack of family! (laughter) In short, from this special grandfather, an even more original son is born: your father. It must not have been easy for you to manage his outside the box character, but at the same time it must have been a great source of inspiration.
Barnaba: Yes, I admit that at the beginning it was very hard, we were always fighting. He had an intractable character. I left home at 20 and worked for a while in Milan with the American designer Ken Scott. I designed fabrics for him and in parallel I was also involved in underground printing. Then, a total turning point: I went to Tuscany for eight years, in the 70s, and I got married for the first time.
Wakapedia: First of how many?
Barnaba: I stopped at two! (laughter) In Tuscany I was in charge of restructuring and buying and selling farmhouses. I liked it, but one day my father – who was badly reduced, on the verge of bankruptcy – looked for me and asked me to help him. It was the end of the 70s and I was happy when he asked me to return home. Artistic printing was a sector that always fascinated me and I also wanted to participate in the family adventure. So I went back to Milan – luckily my father had calmed down in the meantime, after taking a lot of beating (laughter). And from there I worked with him until the end, in 1988.
Wakapedia: We were born in 1988!
Barnaba: Eh, blessed are you who are so young, do not show off too much! (laughs)
In 1988 my father passed away and it was a great shock, I didn't expect it. With his sudden death there was no real handover. It was very hard. But after ten years of struggle the hour of growth arrived, of international fame, and now the brand is fine.
Wakapedia: Without a doubt! Speaking of fame, who is the famous woman depicted in your prints?
Barnaba: Lina Cavalieri, an opera singer.
Wakapedia: Ah, here is the lyric of the grandfather who returns! Why did your father choose it as an icon?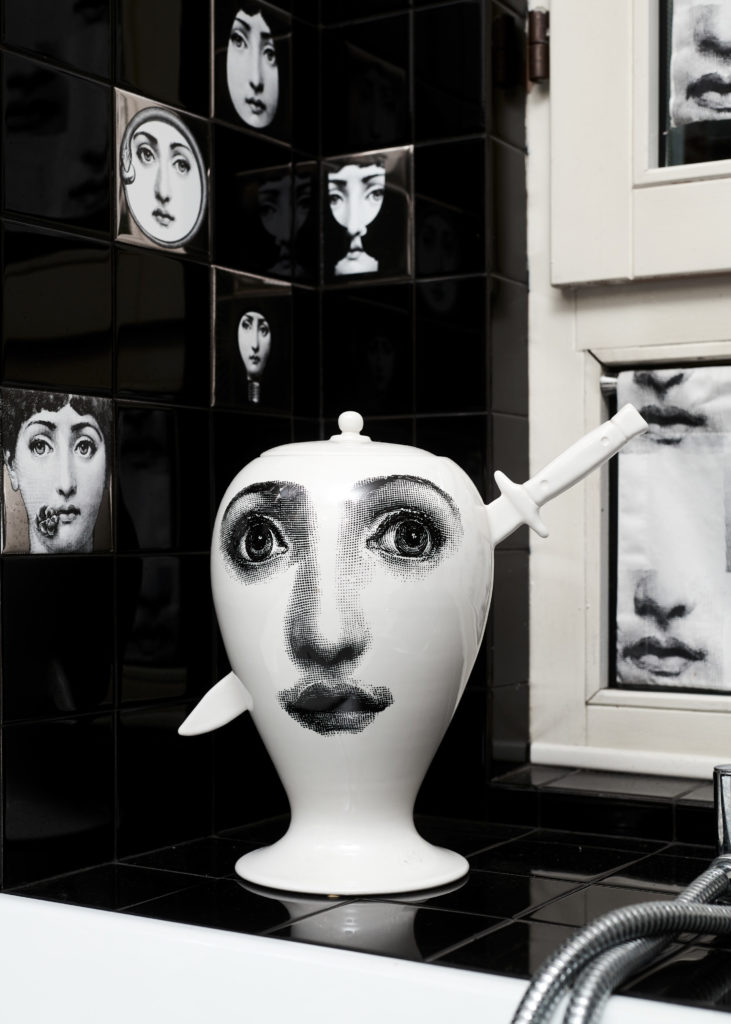 Barnaba: One day he saw her portrait in the newspaper and was fascinated by her face.
It was love at first sight … then it became a stroke of genius! He took that face, revisited it in his own way and turned it into the "trademark" of the Fornasetti design.
Then he also did extensive research on Lina Cavalieri, she had become a passion-obsession for him.
He discovered that she was a soprano at the end of the 1800s and beginning of the 1900s: a star and at the same time an incredible woman. It would take an entire article to cover only her history. If you are interested, among other things, I recommend reading her biography ("Lina Cavalieri. The most beautiful woman in the world. Life (1875-1944)" by Franco Di Tizio, Ianieri editions, ed.). Lina was a transgressive ahead of her times, a popstar 100 years before Pop culture existed. She had a life full of passions, of men (D'Annunzio was among the lucky ones, ed), of scandals. In short, an incredible character!
—- Maria is back, it's coffee time. She scolds us because we haven't finished the sbrisolona yet, so we hasten to eat it so as to not disappoint. We take American coffees, while for Barnabas she notes "Mr. Fornasetti's usual". This intrigues us, but we'll never find out what it is! —-
Barnaba: I don't know if you know, but the death of Lina Cavalieri was as spectacular as her life. An American bomber flying over Florence dropped the bomb right on her villa. Lina had expected to run away, but at the last moment she remembered that she hadn't taken her beloved jewelry. When she returned to retrieve them, the bomb exploded … a tragic death, but like a true diva!
Wakapedia: Nooo, it's very sad … but at the same time so chic!
Barnaba: American citizens, including many of Lina Cavalieri's fans, became angry when they discovered that one of their favorite stars had been killed by their planes. The government's response was "Cavalieri was a fascist". Only because she had Mussolini take her on a tour of Rome.
Wakapedia: Wow … she was a real heroine of the past! You made us want to read her biography. Look, let's talk about your music now. Because we first met you thanks to your DJing activity. When did you start?
Barnaba: I started making music in the 1970s, although I have always had a passion for it, thanks to my father. At home we listened to everything: classical music, flamenco, French singer-songwriters … I also had an older cousin who listened to Elvis Presley and all that Rockabilly stuff. And then the Rolling Stones arrived and I went crazy. I started mixing for friends, at parties, but I never really played an instrument. My father would have liked me to but you know, when you are young, you always want to do the opposite of what your parents want. (laughs)
Wakapedia: Ah, holy truth! (laughs). Barnaba, in the end, between a sbrisolona and a coffee, we managed to squeeze an interview out of you … even if it seemed more like a chat – we screwed you over!
Barnaba: Do not think that I did not notice. I may not be as young as you, but I am not senile yet!
(laughs)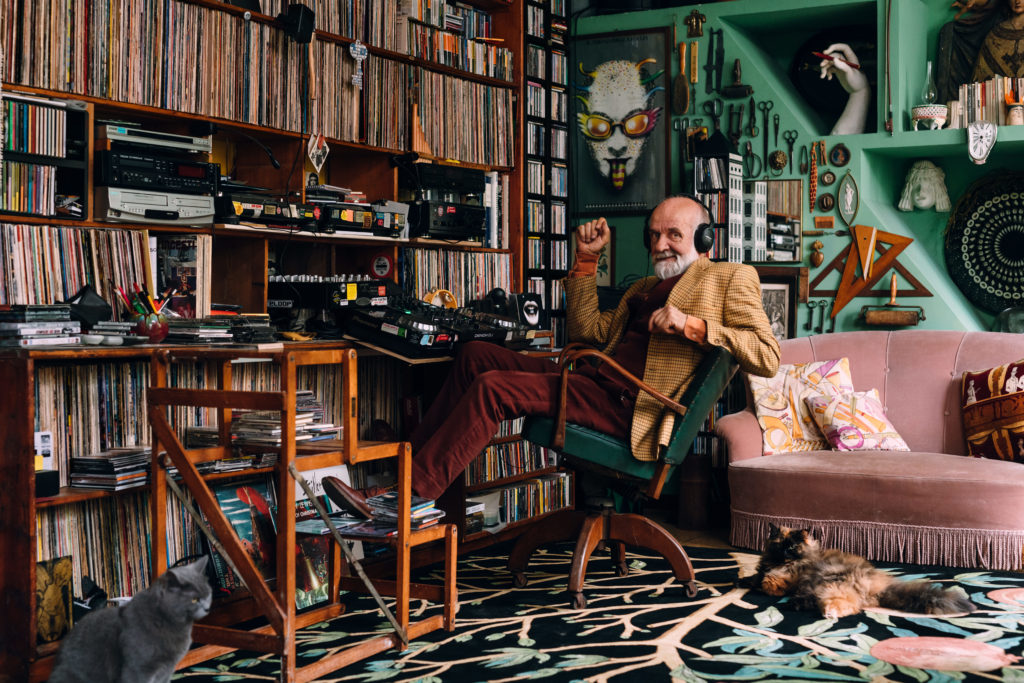 Description & Interview: Sara Waka
Edited by: Federica Forte
Photo: Tomaso Lisca